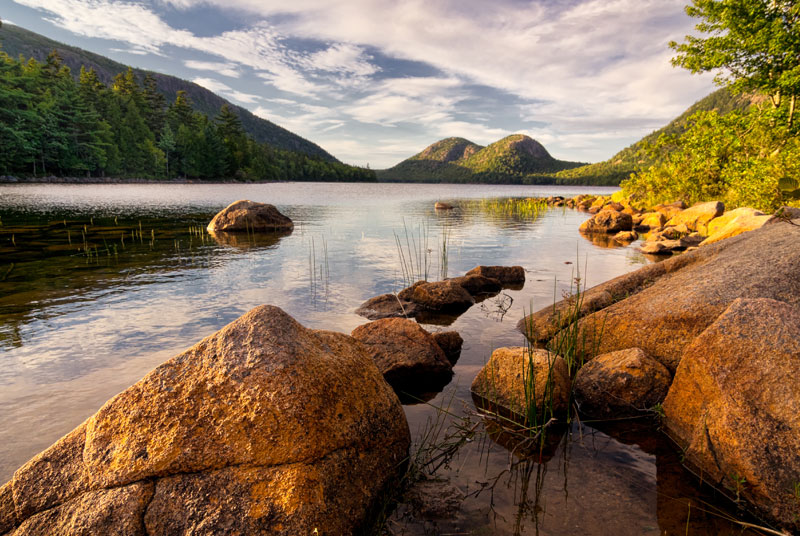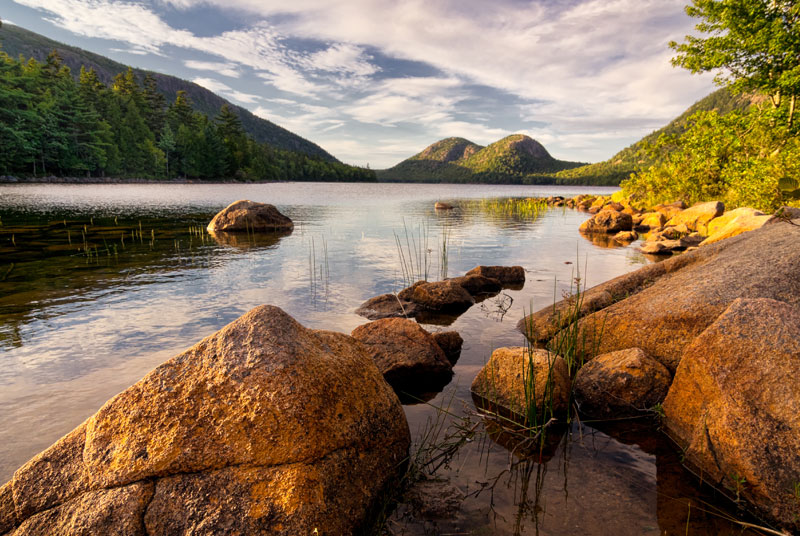 Acadia National Park
Acadia National Park is on Mount Desert Island, along the Maine coast about halfway between New Hampshire and New Brunswick, Canada. The 80,000-acre island—18 miles long, 14 miles wide, and roughly shaped like a lobster claw—is connected to the mainland by a short bridge and causeways.
Scoured by powerful glacier movement thousands of years ago, the island is divided into east and west by Somes Sound, the only fjord on the East Coast. Frenchman Bay lies to the east, Blue Hill Bay to the west. Twenty-six pink granite mountains extend across the island. Cadillac Mountain, at 1,528 feet the island's highest point, is premier for watching sunrises and sunsets. The mountain valleys host quiet forests of coniferous and deciduous trees; a multitude of streams, meadows, and peatlands; and over 1,200 plant species. Wildlife abounds, with 40 mammal species, 11 amphibian species, 7 reptile species, and 230 bird species. Some 20 glacial lakes and ponds hold thriving populations of brook trout, lake trout, landlocked salmon, and smallmouth bass.
Mount Desert Island lies on the Gulf of Maine's periphery. One of the planet's most biologically productive bodies of water, the gulf supports an amazing variety of marine life, from plankton and invertebrates to fish and 12 marine mammals, including whales, seals, dolphins, and porpoises. Along 41 miles of shoreline, you'll see cliffs and tide pools, sand and boulder beaches, mud flats and tidal marshes, and many islands.
Acadia's birth began in the early 20th century when residents concerned about overdevelopment set aside land for permanent protection. Notables in that effort included Charles Eliot, George Dorr, and John D. Rockefeller. Sieur de Monts National Monument was established in 1916; it became Lafayette National Park in 1919, then Acadia National Park in 1929.
Today, more than three million visitors visit annually to enjoy 120 miles of hiking trails, 45 miles of historic carriage roads, and the 27-mile Park Loop Road, among the must-sees. Recreation abounds for families and all interests and abilities, including hiking, bicycling, kayaking, canoeing, sailing, boating, swimming, picnicking, and tours by bus, boat, trolley, horse-drawn carriage, airplane, ferry, and schooner.
While 30,000 acres of Acadia National Park are on Mount Desert Island, additional acreage is located across Frenchman Bay on Schoodic Peninsula, and also on various islands.