Bar Harbor, Acadia National Park, and Mount Desert Island
Located ten miles south of Ellsworth on Route 3, Trenton welcomes visitors to Mount Desert Island and Acadia National Park. Along the road leading up to the bridge, visitors will find a wealth of stores, galleries, family attractions, an 18-hole golf course, lobster pounds, lodging options, a well-stocked grocery store, and several campgrounds.
Just across the bridge from Trenton, is the Thompson Island Information Center, where you will find park passes, and maps, books, and brochures for making the most of your visit. Bar Harbor is just ten miles further south.
Bar Harbor is the largest community on Mount Desert Island and the natural gateway to the scenic wonders of Acadia National Park. The village is situated on a gentle hill overlooking the harbor with the unofficial center of the town at the intersection of Cottage and Main streets, just uphill from Agamont Park and the Town Pier, and not far from the Village Green.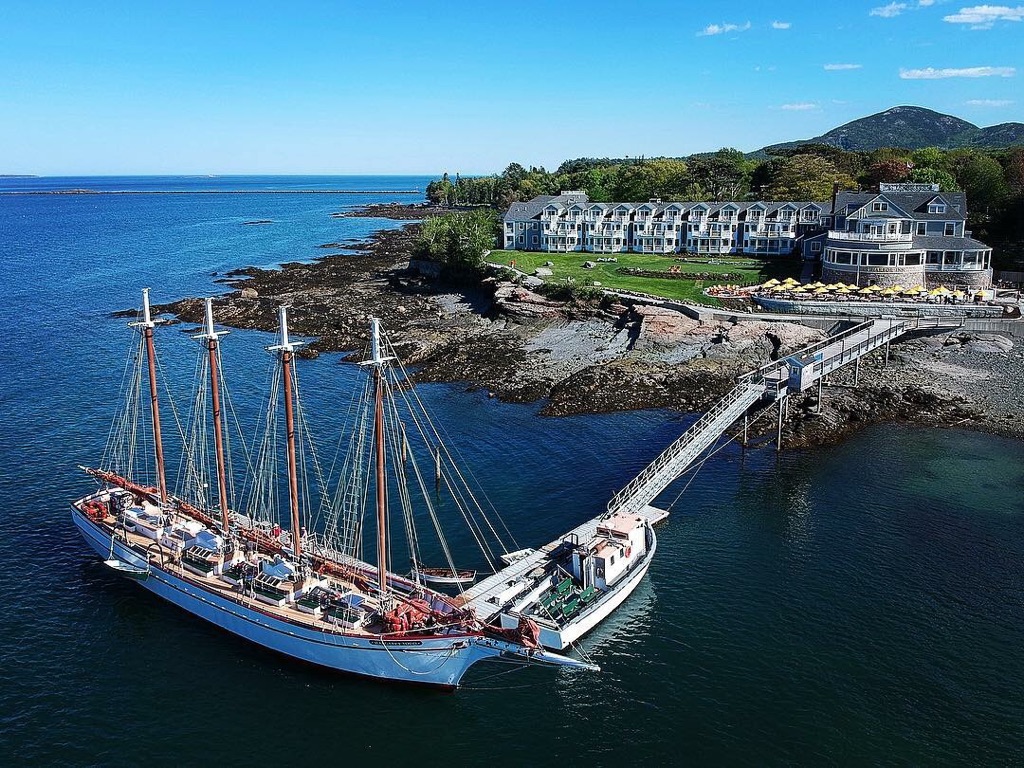 Walking is a great way to see the sights. The famous Shore Path is a leisurely stroll along the waterfront. Bar Harbor is home to a wide variety of specialty and gift stores. Enjoy fine dining, casual eating, pubs, cafes, and breweries. There's something to celebrate nearly all the time in Bar Harbor with a variety of events that are fun for the whole family.
The Town of Mount Desert includes six villages: Otter Creek, Seal Harbor, Northeast Harbor, Somesville, Hall Quarry, and Pretty Marsh.
Otter Creek is home to Acadia National Park's Blackwoods Campground, an inn and convenience store, hot showers for campers, and breathtaking views of ocean and cliffs.
In comparison, the village of Seal Harbor is home to celebrities of kinds who live in the many beautiful large lovely old estates. There is a town dock for local fishermen, lobstermen, yachtsmen, and charter boats.
Northeast Harbor is the hub of the Town of Mount Desert. Quiet in the winter and very busy in the summer, the village offers tennis courts, a golf course, a museum, galleries, gift shops, clothing stores, and restaurants also provide enjoyable meandering. The harbor itself is filled with luxurious yachts and sailboats during summer months and a local fishing fleet in the winter and the ferry to the Cranberry Islands. You will enjoy a broad range of activities from summer concerts featuring classical music with well-known musicians to fabulous auctions.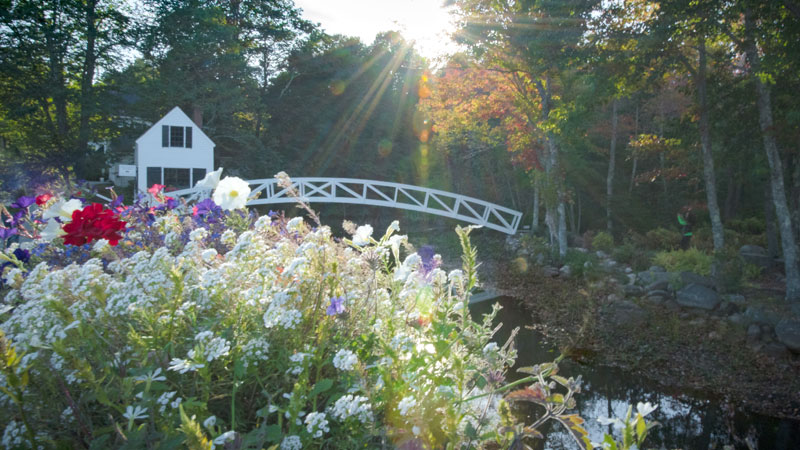 In Somesville, you will find white picket fences and one of the most photographed bridges in the state, located a few feet from the library. The village of Hall Quarry boasts a spectacular view of Somes Sound, the only natural fjord on the eastern coast of the continental United States. Once part of the booming stone quarry industry, some of New York City's iconic landmarks are built with Hall Quarry stone.
Pretty Marsh offers a scenic picnic area, picturesque coves, and small islands. At Bartlett's Island Landing, there is a dock for local lobstermen and small boats to tie up as well as a launching area for canoes and kayaks.
Just off the southern coast of Mount Desert Island, the Cranberry Islands were initially settled in the late 1700s. Named for the wild cranberry crop that grows here. There are several ways to get to the Cranberry Islands, all by boat. Three privately-operated ferries operate service between Northeast Harbor and Southwest Harbor to Great Cranberry Island and then to Islesford. Outside of scheduled service, three water taxis also provide a connection to the Cranberry Islands, with reservations.
Once on Great Cranberry Island, you can see a lot on foot, but a bicycle is also an excellent way to get around. Bring your own bike or rent one on the mainland. A visit to the general store is must. The Whistler Cove Trail is a lovely side trip, leading a quarter-mile through the damp maritime forest to pretty Whistler Cove on the west shore.
Southwest Harbor is often called "the jewel" of Mt. Desert Island. The largest municipality on the southwestern side of the Island, the town has excellent shops, galleries, and eateries. Many people choose to stay here during their visit to Acadia National Park for its more relaxed pace and excellent accommodation options. The picturesque working harbor is filled with some of the finest yachts and sailboats in the world made right here by renowned boat builders.
Bernard is a small fishing village on the southwestern edge of Mount Desert Island, a few miles west of Southwest Harbor, and directly across from Bass Harbor and nearby Bass Harbor Head Light which guards the harbor's entrance. Next to the town wharf is a classic Maine lobster shack that serves up seafood and lobster as fresh as it gets. Route 102 leads to the harbor, a collection of antique shops, and art galleries.
Enjoy the loop drive along Routes 102 and 102A through the west side of the island, from Somesville to Southwest Harbor to Bass Harbor to Bernard to Pretty Marsh and back to Somesville, for a scenic auto tour on par with the Park Loop Road.
From Bass Harbor, catch a ferry to the small island village of Frenchboro, located on Long Island, southeast of Swans Island. Two miles long by a mile and a half wide at its widest point, the island consists of a total of 2,500 acres, of which Maine Coast Heritage Trust owns roughly 1,000.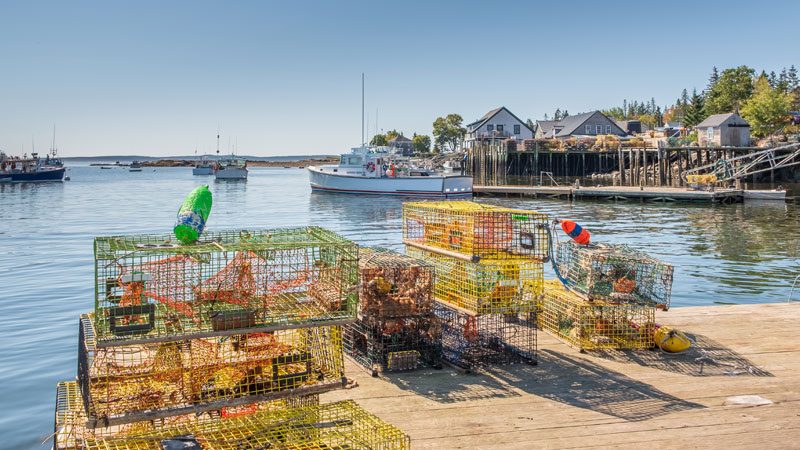 A couple of miles off the southern coast of MDI is Islesford, also known as Little Cranberry Island, and one of the five Cranberry Islands along with Great Cranberry, Sutton, Baker, and Bear islands. The latter two islands are part of Acadia National Park. The pretty little enclave of Islesford presents a unique mix of lobstermen, artists, and well-heeled summer people. The only way to get to Islesford is by privately-operated ferries or by three water taxis with advance reservations.
Swan's Island is a peaceful haven for those wanting to get away from the daily grind. Accessible by ferry, it is ideal for a quiet, unhurried vacation.
The town of Tremont, whose name means "three mountains" in French, is an apparent reference to the peaks of Beech, Mansell, and Bernard mountains, which rise prominently on either side of Long Pond. En route to Tremont, you'll visit Seawall and then Bass Harbor Head Light, which is one of the most recognized and photographed lighthouses in Maine.
Stop and look around the salty, picture-postcard fishing village of Seal Cove to capture scenes of lobster boats, lobster traps, and the colorful buoys and nets. For added adventure, launch a sea kayak at Seal Cove, take a hike on Beech Mountain or Bernard Mountain, or enjoy a picnic lunch at Pretty Marsh or Seawall.
Visitor Resources: Visit Bar Harbor | Acadia National Park