Bass Harbor Head Light
The Bass Harbor Head Light has been standing watch over the entrance to Bass Harbor on the southwestern side of Mount Desert Island since 1858. This white brick and stone lighthouse—the only lighthouse on the island—is one of the most recognized and photographed in the United States.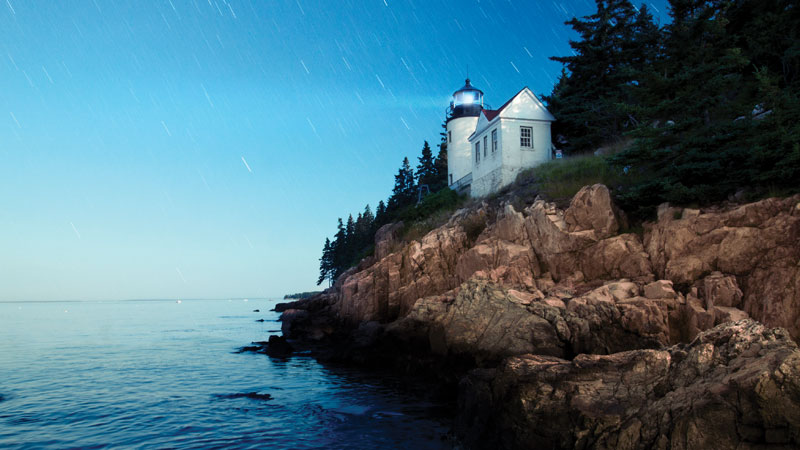 From Route 102A a mile south of the village of Bass Harbor, drive south on Lighthouse Road to its end at the lighthouse parking area. To get a look at the light, take the gravel path from the east corner of the lot and follow the fenceline into the woods to a wooden platform. Descend the steps to the pink granite pathway below, which leads along the base of the granite cliff to the rocky shoreline. Directly ahead is the classic clifftop view of Bass Harbor Head Light. Offshore to the south is Great Gott, Placentia, and Swans islands.
The Bass Harbor Head Light Station remains an active aid to navigation, operated by the U.S. Coast Guard. The station was placed on the National Registry of Historic Places in 1988. The lighthouse and lightkeeper's house are private and not open to the public.
A few miles to the east on Route 102A are the trailheads for the Ship Harbor Nature Trail and the Wonderland Trail. Both are short, leisurely walks that are suitable for the entire family. Further east is the scenic oceanside Seawall Picnic Area and Seawall Campground. The Island Explorer shuttle bus serves these destinations as well as Bass Harbor Head Light.
GPS: 44.22197 N -68.33729 W Established: 1858 Automated: 1974
Visitor Resources: Lighthouses & Sightseeing