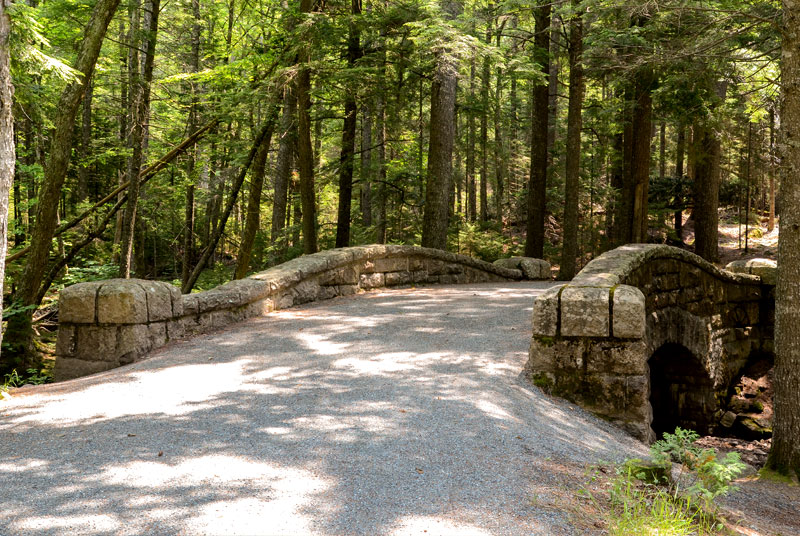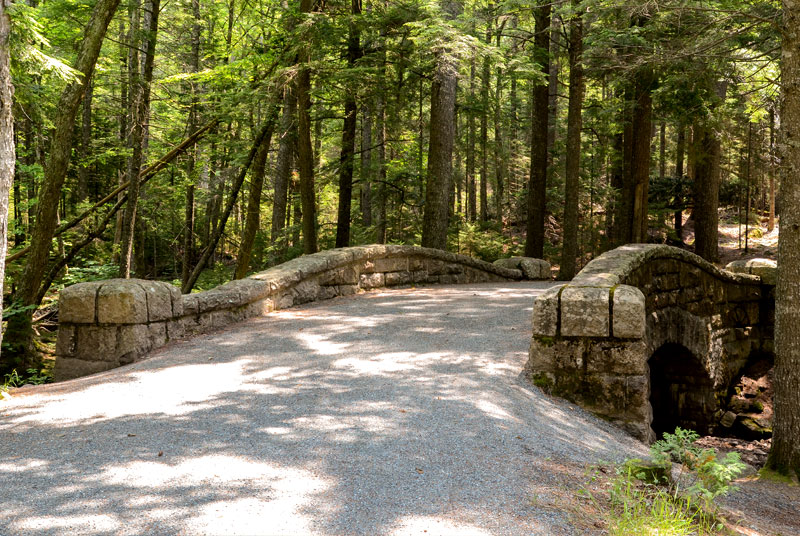 Bike the Carriage Roads of Acadia National Park
Easy, many options of varying mileages
A network of carriage roads—closed to vehicular access—winds through Acadia National Park, offering bicyclists 45 miles of scenic riding. These carefully maintained gravel roads were financed and built under the supervision of John D. Rockefeller between 1913 and 1940.
Loop trips allow for leisurely rides ranging from a few hours to an entire day. One of the most popular is the six-mile loop around spectacular Eagle Lake. Nearby, the Aunt Betty Loop crosses the bubbling streams of the Seven Bridges area before swinging by quiet Aunt Betty Pond. The Day Mountain Loop circles the mountain then climbs up to great views of the Cranberry Isles, Northeast Harbor, and Southwest Harbor. The Amphitheatre Loop ventures into the heart of the park between the slopes Cedar Swamp and Penobscot mountains, crossing the Little Harbor Brook Bridge and Amphitheatre Bridge along the way. The park's Carriage Road User's Map is a helpful guide to these and other rides. When cycling, yield to other users—and horses, which can be startled by sudden movements.
Remember, Safety First
Bicyclists:
Wear a properly-fitted bicycle helmet (mandatory for bicyclists under the age of 16).
Obey the rules of the road and follow all traffic laws, signs, and signals, just like cars.
Signal turns and ride in designated bike lanes and on shoulders, when practicable.
Ride at a safe speed.
Be prepared to stop, but be cautious of making sudden stops on loose gravel.
Stay to the right. Warn other users before passing on the left.
Carry and drink plenty of water.
Contact the Maine Department of Transportation for more bicycle safety and bicycle trip planning information.
Motorists:
Drive cautiously around bicyclists.
Motorists must give bicyclists 3 feet of clearance when passing (Maine law).