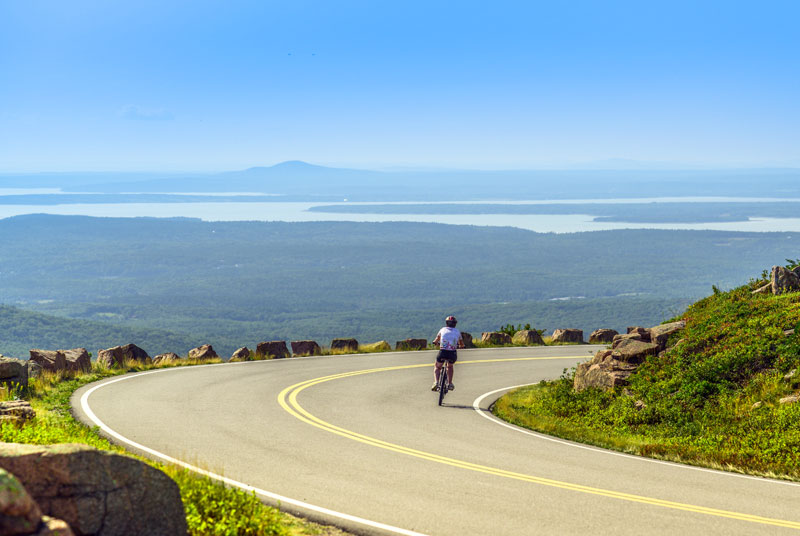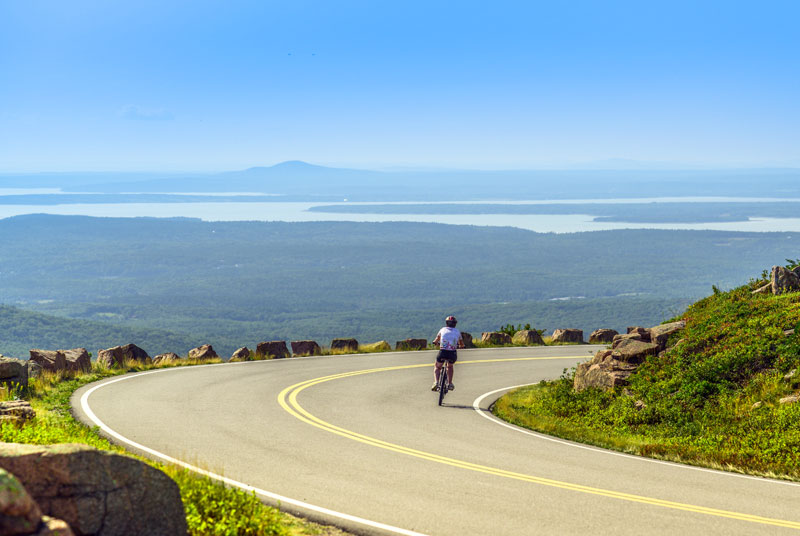 Bike the Park Loop Road and Fire Roads of Acadia National Park
The 27-mile paved Park Loop Road, on the park's eastern side, provides wonderful sightseeing by bike. From the Hulls Cove Visitor Center to Seal Harbor—a two-way vehicular traffic section—bicyclists can stop by Eagle Lake and Jordan Pond House.
Beginning three miles from the visitor's center, the Park Loop Road then becomes one-way for much of its length, so cyclists don't have to worry about oncoming traffic. Cyclists can pedal past incredible sights such as The Precipice, Sand Beach, Thunder Hole, and Otter Cliffs before rejoining the two-way section just south of Jordan Pond. Hearty cyclists up for a hill climb can tackle the Cadillac Mountain Road, which leaves from the Park Loop Road 3 1/2 miles south of Hulls Cove Visitor Center.
Fire Roads
A web of old fire roads on the western side of Mount Desert Island near Southwest Harbor winds in and out of the park through quiet woods and fields, enough for hours of pleasant bicycling. Miles of lightly-trafficked roads and byways nearby offer more pedaling possibilities.
Remember Safety First
Bicyclists:
Wear a properly fitted bicycle helmet (mandatory for bicyclists under the age of 16).
Obey the rules of the road and follow all traffic laws, signs, and signals, just like cars.
Signal turns and ride in designated bike lanes and on shoulders, when practicable.
Ride at a safe speed.
Be prepared to stop, but be cautious of making sudden stops on loose gravel.
Stay to the right. Warn other users before passing on the left.
Carry and drink plenty of water.
Contact the Maine Department of Transportation for more bicycle safety and bicycle trip planning information.
Motorists:
Drive cautiously around bicyclists.
Motorists must give bicyclists 3 feet of clearance when passing (Maine law).