Blue Hill Peninsula
Welcome to the Blue Hill Peninsula, filled with small-town charm and character. Sheltered harbors, lighthouses, and picturesque islands make this one of the finest areas in the world for an on-the-water experience further beautified by secluded nature preserves and timeless villages dating to our nation's infancy.
After crossing the bridge, you'll pass through Verona Island, which takes its name from the Italian city, which is bounded by the Penobscot and Orland Rivers. If you are feeling hungry, turn down West Side Drive and head to the Verona Island Lobster Company for right-from-the-ocean lobsters and seafood.
Bucksport is home to the Penobscot Narrows Bridge and Observatory, an engineering marvel with a 420-foot observation tower that spans 2,119 feet across the Penobscot River.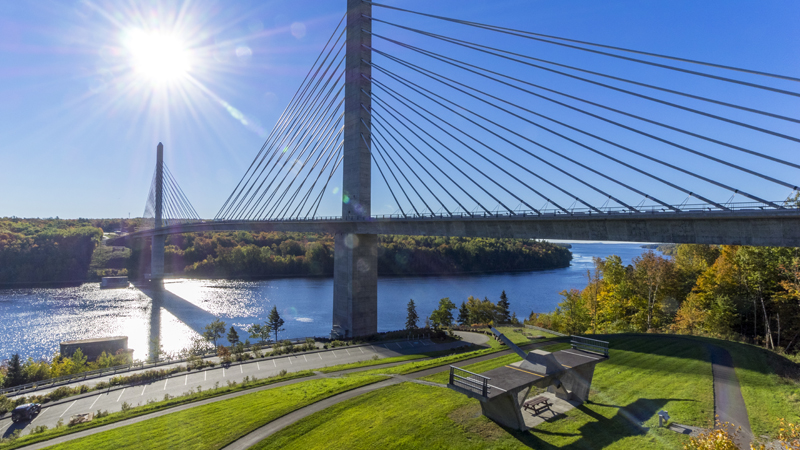 You can shop, hike, canoe, kayak, enjoy a movie, eat ice cream, wander the riverfront trail, and relax with a great cup of coffee in Bucksport. Enjoy a day exploring Historic Fort Knox, one of the best-preserved examples of Civil War-era coastal defense fortifications. Boating in Penobscot Bay is a great way to enjoy the warm months, while in the winter, a vast network of trails welcomes snowshoers, cross country skiers, and snowmobiling. Don't forget to ask about the eerie mark on founder Colonel Jonathan Buck's gravestone for a bit of local lore!
Just east of Bucksport, situated on the banks of the Narramissic River, Orland is home of some wonderful trails and conservation efforts. Visit the Great Pond Mountain Conservation Trust for its hiking trails or the Craig Brook National Fish Hatchery to see how they are working to restore native Atlantic Salmon to the rivers downeast.
Down Route 175 and set along the Bagaduce and Penobscot Rivers, the town of Penobscot boasts a classic rural character and tiny village area. Penobscot offers miles of shoreline and interior marshes and ponds for leisurely fishing, kayaking, and sightseeing. Several B&Bs provide comfortable, friendly lodging for visitors.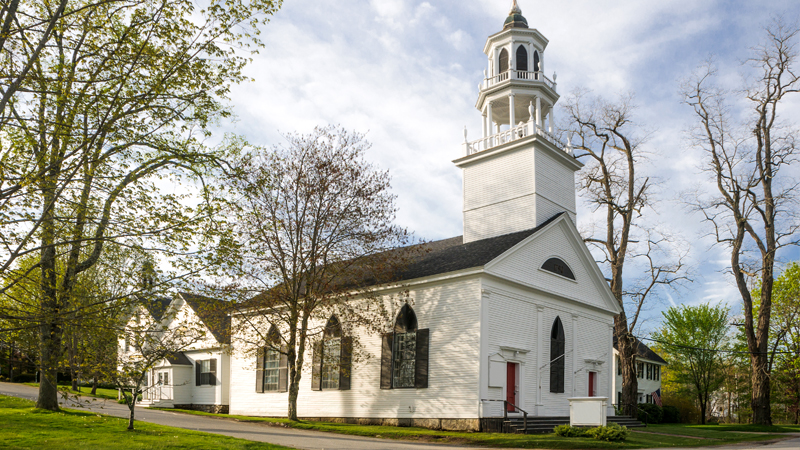 One of the oldest towns in New England, Castine is home to several historic sites and parks, Dyce's Head Lighthouse, and a deep water harbor. Its streets are still lined with Federal, Greek Revival, Cape Cod, and other antique style houses, shaded by large elms. The Castine Post Office is in one of the oldest Post Office buildings in continuous operation in the US. Today, Castine's downtown offers visitors a delightful mix of gracious hospitality, fine dining, shops, and galleries dotting the hilly streets leading down to the waterfront.
Blueberry barrens dot the landscape of the town of Sedgwick, offering scenic views, notably Caterpillar Hill. The town's coastline stretches along the shores of the Eggemoggin Reach, separating the Peninsula from Deer Isle. The mouth of the Benjamin River offers sailors and boaters a quiet cove, and the nearby village of Sargentville is the jumping-off point for Deer Isle.
Nestled between Blue Hill Mountain and the protective arm of Blue Hill Bay lies the charming town of Blue Hill. Blue Hill first made a name for itself as a shipbuilding and lumber center, and for its granite—used in projects like the Brooklyn Bridge.
The town became a summer destination in the mid-1800s. Today, Blue Hill is vibrant with artists and craftspeople, excellent food, lodging, art galleries, and small shops and welcomes visitors to hike its forests and to canoe, kayak, and sail its waters.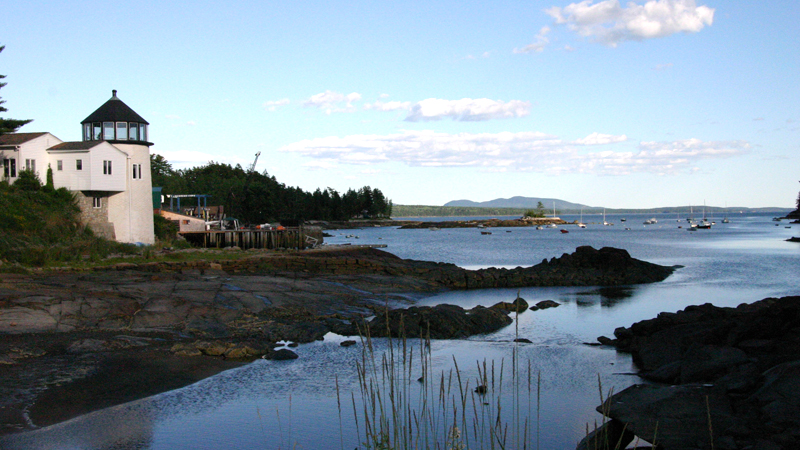 Nestled in the northeast corner of the Blue Hill Peninsula, Surry is a beautiful small town that touches Patten Pond, Toddy Pond, and the Union River Bay. Home to the Carter Nature Preserve, Surry is a perfect place to kayak, swim, and enjoy nature close up. You can also take in a different view of the mountains of Acadia National Park.
A small, lively village at the southern end of the Blue Hill Peninsula, Brooklin is home to boat builders, artists, writers, musicians, and potters. Brooklin's beautiful, rural landscape provided the setting for many of E B White's books, such as Charlotte's Web and Stuart Little.
The picturesque town of Brooksville, dotted with century-old farmhouses and comfortable summer retreats, encompasses the villages of Harborside on Cape Rosier, North and South Brooksville, and Brooksville Corner. The area is known as the inspiration for the illustrations in Robert McCloskey's books, such as Blueberries for Sal. With vast tracts of conservation land, blueberry barrens, and 1230-acre Holbrook Island Sanctuary, there is plenty of elbow room and lots to explore.
Linked to the peninsula by a bridge, Deer Isle is one of two towns on the island of Deer Isle—the other is Stonington. A tiny village of a few shops and a historic inn its scenic coastline is home to fishermen, artists, retirees, writers, and a good many people who live by doing "this or that" in the manner of generations who came before. Bicyclists and kayakers can find quiet spots to explore. Shoppers will enjoy visiting artists and craftspeople in their studios, often in a barn attached to the house. Make sure to check out the Deer Isle Lighthouse Trail, consisting of eight area lighthouses and a lighthouse passport stamp for each of them!
The bridge to the mainland touches down at one end of Little Deer Island off the westernmost point of this oblong-shaped island is Pumpkin Light, a beacon for mariners. Part of the town of Deer Isle, true explorers will want to visit this quiet island by taking the road less traveled.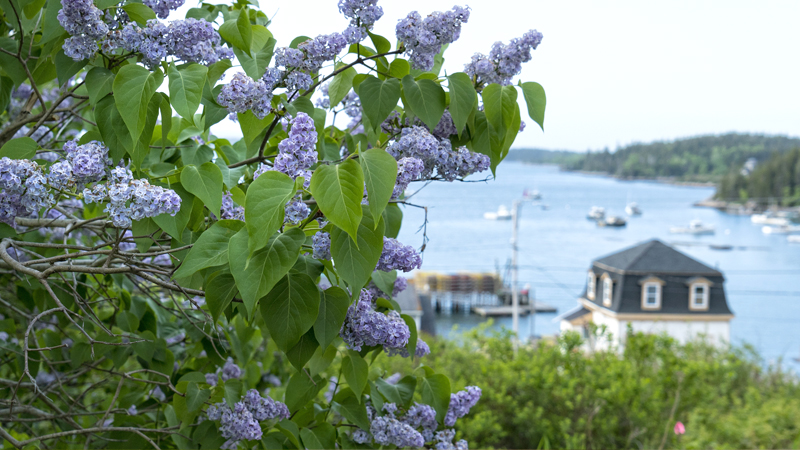 At the tip of Deer Isle, you will find picturesque Stonington, where windjammers, kayaks, and day cruises make way for more than 300 lobster boats that are the lifeblood of this bustling seaside community.
This working waterfront town is home to the historic Opera House Arts offering live theater, music, dance or film events year-round, a lobster hatchery and research station, one of Maine's liveliest weekly Farmers Markets, a consortium of galleries from fine handmade furniture to Plein air painting, and Haystack Mountain School of Crafts.
Finally, while only a few hardy tourists find their way to Isle au Haut, this breathtaking island is only accessible by boat. About 60% of the island is part of Acadia National Park, with the remainder privately owned by a combination of fulltime and seasonal residents. The island offers incredible hiking, biking, and kayaking opportunities, as well as the chance to relax and enjoy the island's natural beauty.
Visitor Resources: Fort Knox Hisitoric Site & Penobscot Narrows Bridge and Observatory | Welcome to Bucksport | Castine Maine | Blue Hill Peninsula Chamber of Commerce | Holbrook Island Sanctuary | Stonington - Opera House Arts | Deer Isle-Stonington Chamber of Commerce