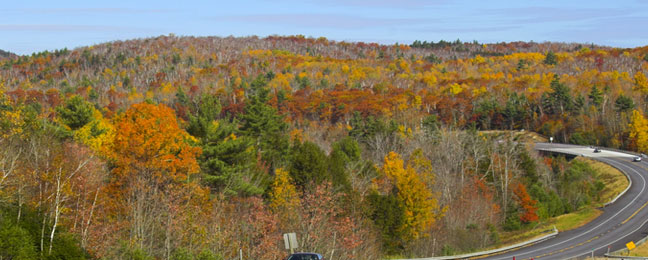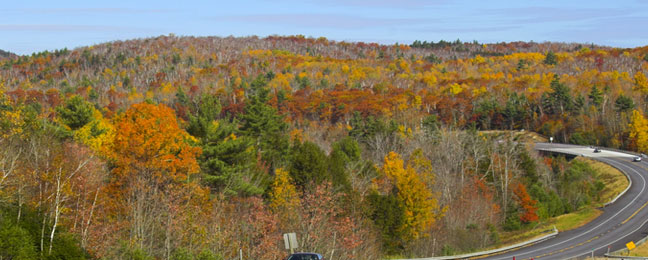 Bridges, Byways & Festivals
The Penobscot Narrows Bridge and Observatory, opened in 2006, is a modern engineering marvel that is celebrated at local festivals throughout the year. From the Observation Tower, you can see out over the entire region-where you've been or where you're headed. This is a must-see for everyone visiting DownEast & Acadia.
When you live in an area so rich in nature and culture, what's not to celebrate?
In addition to our new bridge, we celebrate Food (such as Salmon, Blueberries, Lobsters and Garlic), Nature (Lupines, Autumn, Birds, Snow), History (Margaretta Days, Walk Through Time), the Arts (Grand lake Stream Folk Art Festival, SW Harbor, Bar Harbor Music Festival, Peninsula Potters) and even our towns (almost every town has a celebration during the summer). And we celebrate our Cultures (International Day, Indian Days) and, of course, the 4th of July. Check out a sampling of our festivals or search our calendar for exactly what's going on when you are here.
En route to the festivities or if you are looking for something a little quieter, we have lots of places where you can just get out and explore. For instance, we have more lighthouses (24 in our region and 3 more very nearby!) than any other region of the state. Acadia National Park, the only national park in New England, has 40,000 acres and 45 miles of carriage roads, with unparalleled vistas and opportunities for hiking, biking, horseback riding and snowshoeing. In addition, our area boasts the only International Park, Roosevelt Campobello International Park, the beautiful "cottage" and its amazing gardens, where FDR spent his summers. Our other parks and Public Reserve Lands also offer great opportunities to explore nature, many of which are off the beaten track. Please keep in mind that many areas open to the public are accessible because of the generosity of local landowners, so please be respectful and leave no trace.
Our area also boasts several officially designated scenic byways . If you start adding the small scenic roads, trails and lookout points you will be able to travel throughout the region with views and scenery galore. Come take a drive or a spin and discover your own favorite route!
The Down East Sunrise Trail, running from Washington Junction in Hancock to Ayers Junction in Pembroke is an 85 mile multi-use trail built along the rail corridor. It is ideal for snowmobilers, ATV-ers, pedestrials, bicyclists, cross country skiers, equestrians, etc. It's a great way to explore off the main road, in whatever way you like to travel.