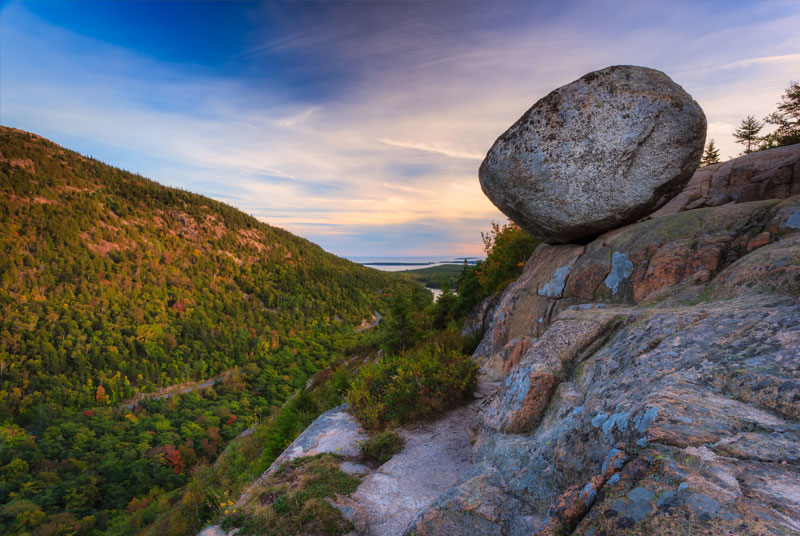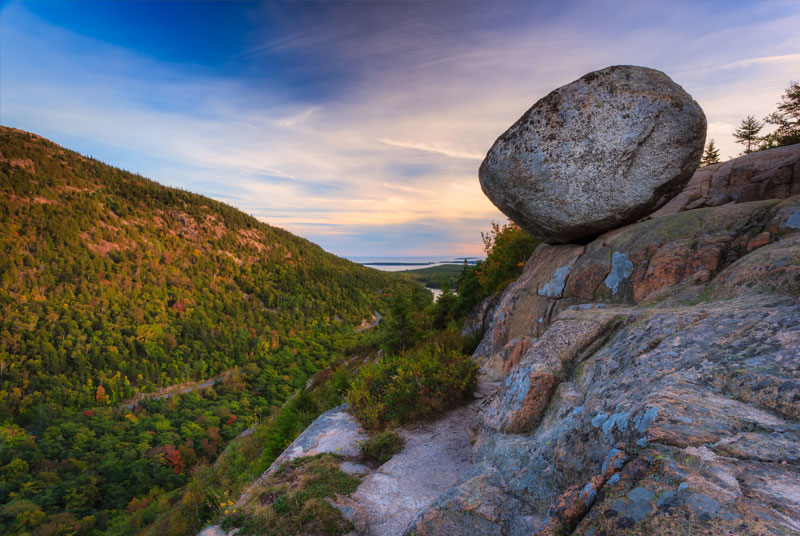 Bubble Rock Trail
Moderate Hiking, 0.7 miles one-way
Bubble Rock is arguably the best-known boulder in the entire state of Maine and one of the most visited spots in Acadia National Park. Perched precariously on the eastern edge of the summit of South Bubble, this giant geological feature is an excellent example of a glacial erratic, a huge rock that was moved here by the powerful action of ancient glaciers. Scientists estimate the rock originated some 40 miles to the north near Lucerne, its coarse-grained white granite differing markedly from the familiar pink granite of Mount Desert Island.
Bubble Rock and the 768-foot peak of South Bubble can be reached via the Bubbles Divide Trail and Bubbles Trail. The Bubbles trailhead and the parking lot is located on the Park Loop Road, just over a mile south of Bubble Pond and about 1.5 miles north of Jordan Pond House.
From the parking lot, Bubbles Divide Trail heads west, quickly crosses the Jordan Pond Carry Trail, and climbs easily upward on a wide, graded trail. The Bubbles Trail from North Bubble joins from the right, and the merged trails continue to the top of the divide between North Bubble and South Bubble. Here, Bubbles Divide Trail descends straight ahead, but you'll bear left onto the Bubbles Trail for the top.
Ahead, pass a short spur trail on the right leading to a large boulder (not Bubble Rock) and a ledge outlook with a fine view of the long ridgeline of Sargent Mountain. Not far ahead on the main trail, break out of the tree cover onto the open summit. A short spur trail on the left leads downhill a short distance to the edge of the cliff and Bubble Rock. Atop South Bubble, just beyond the side trail to Bubble Rock, are wonderful views of Jordan Pond, Pemetic Mountain, Penobscot Mountain, as well as the ocean off Seal Harbor.
Visitor Resources: Hiking and Climbing in Maine | Maine Trail Finder | Bar Island | The Beehive | Ship Harbor Nature Trail | Wonderland Trail | The Bowl Trail | Beehive Trail Hike Beech Mountain | Bubble Rock Trail | Cadillac Mountain | Cadillac Mountain North Ridge Trail | Cadillac Mountain South Ridge Trai | Cadillac Summit Path | Champlain Mountail Beechcroft Trail | Champlain North Ridge Trail | DownEast Lakes Trust Trail | Gorham Montain Trail | Great Head Trail | Jordan Pond Nature Trail | Mansell Mountain Trail | Ocean Path Trail | Pemetic North Ridge Trail | Precipice Trail