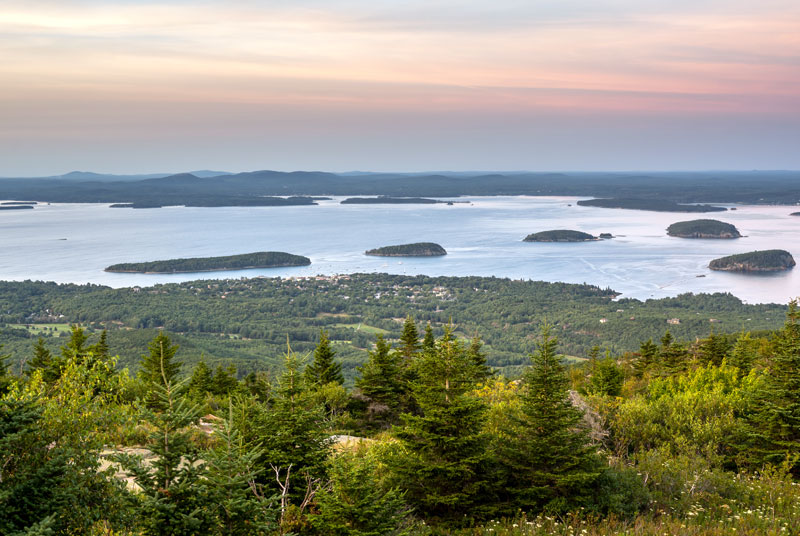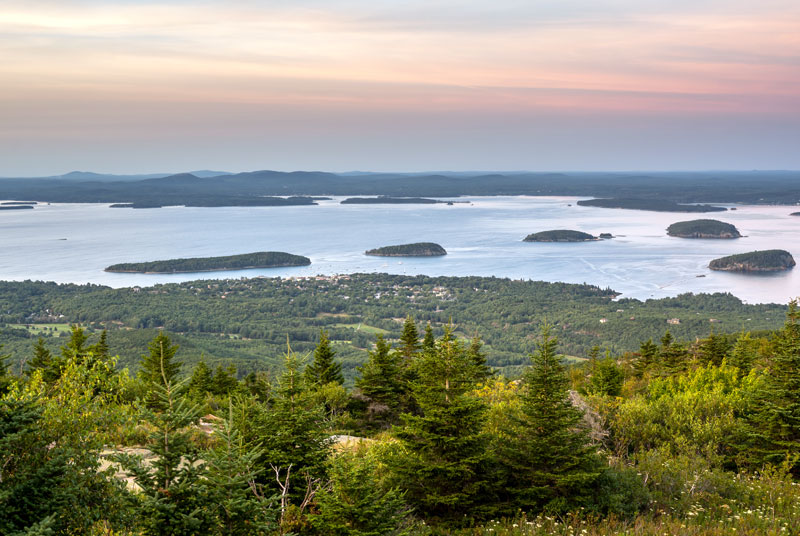 Cadillac Mountain North Ridge Trail
Moderate Hiking, 2.2 miles one-way
The mostly bare rock of the North Ridge of Cadillac Mountain offers hikers spectacular views in all directions. From the brilliant blue of Eagle Lake to the west, to the village of Bar Harbor and the islands offshore to the north, to Dorr Mountain in the east, hikers can see it all on the Cadillac North Ridge Trail, one of the most popular mountain hikes in Acadia National Park. The trail ends, of course, on the 1,528-foot summit of Cadillac Mountain, the highest peak in the park, and highest point along the eastern seaboard.
The trailhead is located on the one-way section of the Park Loop Road, about 3 1/2 miles south of the Hulls Cove Visitor Center. Parking is limited near the trailhead, and on busy summer days, it's usually best to ride the Island Explorer shuttle bus from Bar Harbor.
Cadillac North Ridge Trail leaves the south side of the road and scrambles up over rock slabs and through groves of stunted pine trees. After breaking out into the open a short while ahead, the trail climbs moderately but steadily with views that get better with each step upward. The trail stays just east of the Cadillac Mountain Summit Road as it winds its way toward the top. Despite coming close to the road at several points, the walking is wonderful and the alpine-like terrain so beautiful that the road and the cars are hardly a distraction.
After just over two miles, the trail reaches the summit of Cadillac Mountain, where there is a large parking area, gift shop, and restrooms. The unimpeded view now includes the long and wide-open South Ridge of Cadillac Mountain (traversed by the Cadillac South Ridge Trail), all the way to Eagle Crag and beyond to the mouth of Otter Creek and the ocean, as well as The Bubbles and Pemetic Mountain to the west. Find a spot to relax for a while and enjoy a picnic lunch, and then peruse the interpretive signs along the short Cadillac Mountain Summit Path before heading back down.
Visitor Resources: Hiking and Climbing in Maine | Maine Trail Finder | Bar Island | The Beehive | Ship Harbor Nature Trail | Wonderland Trail | The Bowl Trail | Beehive Trail Hike Beech Mountain | Bubble Rock Trail | Cadillac Mountain | Cadillac Mountain North Ridge Trail | Cadillac Mountain South Ridge Trai | Cadillac Summit Path | Champlain Mountail Beechcroft Trail | Champlain North Ridge Trail | DownEast Lakes Trust Trail | Gorham Montain Trail | Great Head Trail | Jordan Pond Nature Trail | Mansell Mountain Trail | Ocean Path Trail | Pemetic North Ridge Trail | Precipice Trail