Castine
Castine was founded in the winter of 1613 as a small trading post to conduct business with the Penobscots. From 1670 to 1674 the town served as the capital of Acadia, which New France defined with the Kennebec River as the southern boundary. One of the oldest towns in New England, Castine predates the Plymouth Colony by seven years.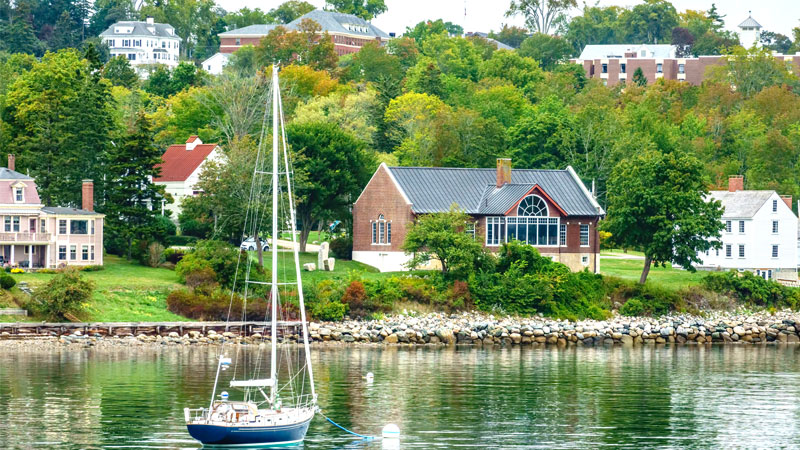 Situated on Penobscot Bay, it is near the site of Fort Pentagouet. Its commanding position at the mouth of the Penobscot River estuary, a lucrative source of furs and timber, as well as a major transportation route into the interior, made the peninsula of particular interest to European powers in the 17th century. At one time or another, it was occupied by the French, Dutch, England's Plymouth Colony, and finally the United States.
In early July 1779—three years after the colonies had declared independence—a British naval and military force sailed into Castine's harbor to established the colony New Ireland. They began erecting Fort George on one of the highest points of the peninsula. An alarmed Massachusetts legislature dispatched what became known as the Penobscot Expedition, under several noted revolutionaries including Col. Paul Revere.
Although badly outnumbered, British soldiers managed to repel American attacks until reinforcements could arrive. The Americans eventually abandoned the fight and retreated up the Penobscot River, destroying their entire fleet along the way to keep it out of British hands. The failed Penobscot Expedition proved to be the most significant American naval defeat until Pearl Harbor in 1941. The British held the area until the end of the war.
Following the Civil War years, Castine's quaint old architecture and fresh summer air attracted "rusticators"—well-to-do urban families seeking rest and recreation, including Harriet Beecher Stowe and Henry Wadsworth Longfellow. By the 1890s, wealthy families from Boston, Hartford and Chicago were buying up old farms and sea captains' houses. Castine became a flourishing summer colony.
The Great Depression hit the area's summer tourism hard, but by the 1960s a new generation of had discovered the area. A key element in the revival of Castine has been the expansion of the Maine Maritime Academy.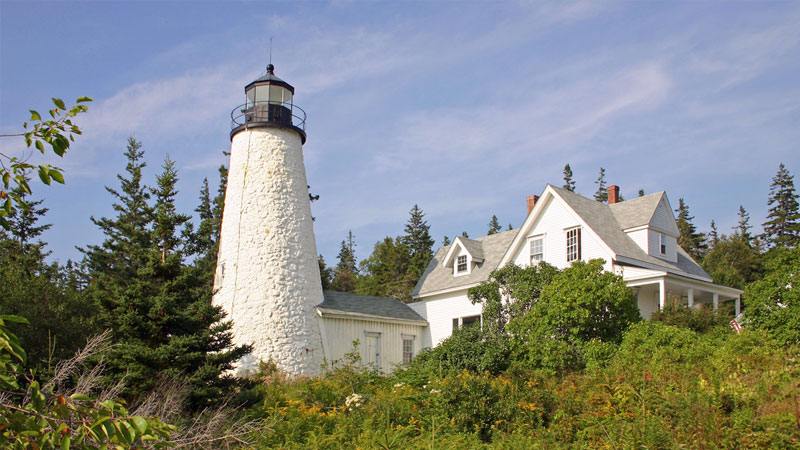 Castine has several historic sites and parks, Dyce's Head Lighthouse, and a deep water harbor. Castine's streets are still lined with Federal, Greek Revival, Cape Cod, and other antique style houses, and shaded by large elms. The Castine Post Office is in one of the oldest Post Office buildings in continuous operation in the US. Today, its downtown offers a delightful mix of gracious hospitality, fine dining, shops, and galleries dotting the hilly streets leading down to the waterfront.
Visitor Resources: Town of Castine | Blue Hill Peninsula Chamber of Commerce | Castine Historical Society | Witherle Memorial Library