Cherryfield
Cherryfield is a historic lumbering village built on the Narraguagus River and boasting a downtown historic district of over 75 acres spanning both sides of the river. The Historical Society offers a self guided walking tour along Main Street and historic Campbell Hill.
Cherryfield is known as the Wild Blueberry Capital of the World, with Wyman's of Maine, located at its northern edge. Legend has two different versions of how Cherryfield got its name. One is for the cherry trees that line the river and bloom in spring. The other story says that the blueberry barrens, which turn bright red in fall, resemble fields of cherries.
Cherryfield contains antique and gift shops, an old-fashioned general store, B&B offering English Tea, and hosts Destination Cherryfield and Cherryfield Days, both annual hometown celebrations with local crafts, music, and home-cooked food. Downtown offers several pocket parks for picnicking and fishing along the river. Just outside of town are blueberry and vegetable farms, a winery, and an alpaca farm, all offering fresh products and farm tours.
Neighboring Milbridge has an active fishing harbor situated at the mouth of the Narraguagus River, and offers opportunities to sample fresh, local seafood and enjoy wildlife watching boat tours. Visitors can learn about the town's maritime heritage at the Milbridge Historical Society.
Just a short drive from downtown Milbridge is McClellan Park, a park and campground with walking trails and picnic benches situated at the edge of the rugged rocky coast. Milbridge Days is an enduring annual community celebration with events such as the infamous codfish relay race.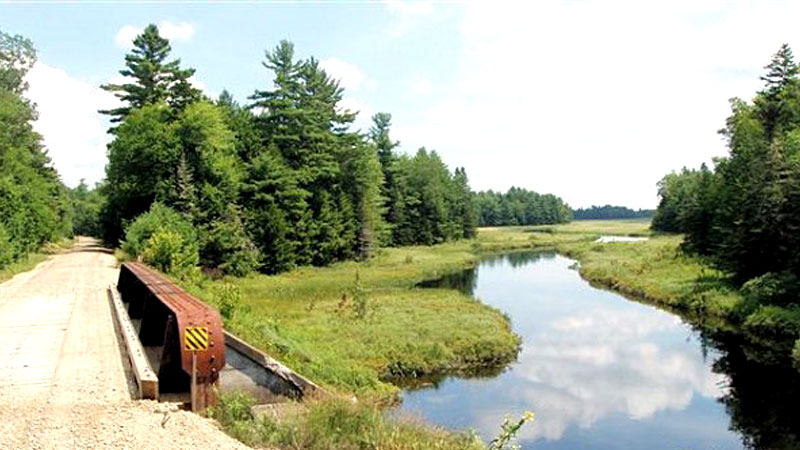 The Downeast Sunrise Trail, a segment of the East Coast Greenway, is easily accessible from the Cable Pool boat launch. Breathtaking scenery and numerous opportunities for paddling, fishing, wildlife-viewing, hiking, camping, and swimming in clear, quiet lakes are just a few minutes drive out of town along the Black Woods Scenic Byway, which intersects with the Bold Coast Scenic Byway in downtown Cherryfield.
Visitor Reources: Destination Cherryfield | Milbridge Merchants Association | Milbridge Historical Society| McClellan Park | Black Woods Scenic Byway | East Coast Greenway | DownEast Sunrise Trail