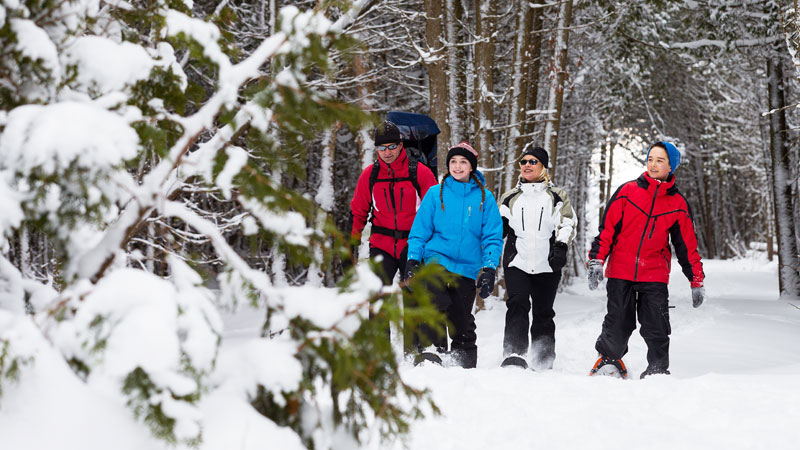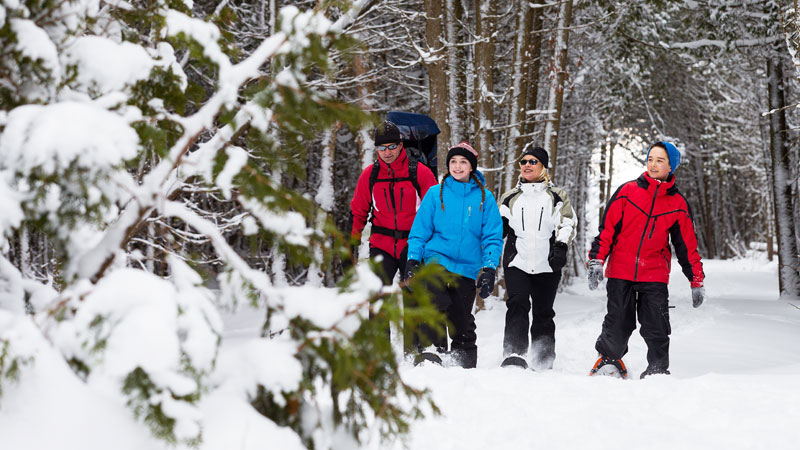 Cross Country Skiing & Snowshoeing
The crunch of your shoes breaks the woodland silence, but there is also the sound of waves rolling and crashing on the sand: the swish of your skis along the trail, the heat of a roaring fire at the end of the day filled with discovery after discovery along the way. Spending the day out of doors during winter in DownEast Acadia can bring about a new perspective.
Whether you choose to snowshoe or cross-country ski, you can enjoy the many State or federally managed parks and public lands or simply a stretch of back roads or blueberry barren.
Those looking for something genuinely spectacular might want to hike out across a frozen pond under the brilliant light of a full moon or utilize the skills of a Registered Maine Guide to take them on a skiing or hiking adventure of a lifetime.
The beautiful thing about snowshoeing is that it's one of the most affordable (and healthy) ways to get active: all you need to top off your standard winter gear are some quality snowshoes which can be rented or picked up for a song if you know where to look. On top of that, its one of the sports that the whole family can fall in love with.
One way to get the kids engaged is to challenge them to find freshly made animal tracks from wildlife that has emerged from the snow to eat. Adults can simply take in the beauty of a snow-encrusted forest.
A decade in the making: In January 2019, the Down East Sunrise Trail—a near 80 miles long mixed use trail that runs from Washington Junction in Hancock to Ayers Junction in Pembroke celebrates its 10th year in use. One of our favorite places to visit when on the DEST is to head off the trail and into the Donnell Public Reserved Land for a little more backwoods fun. Further down east, Cobscook Bay State Park offers nearly 900 acres to explore, and in winter many of the roads accessing the park are groomed for snowshoeing and Nordic skiing.
Another of our favorite trails include the Musquash Esker Trail on the Down East Lakes Land Trust which also pulls together an event every January for snowshoers and Nordic skiers. Also look for the Down East Coastal Conservancy properties which have a dozen or so properties with hike-able trails. We are confident that there is excellent snowshoeing at both the Tide Mill Creek and the Ingersoll Point Preserve, and it's worth reaching out to them to find out which other properties are winter accessible. Each offers excellent coastal snowshoeing opportunities.
Visitor Resource: Registered Maine Guides | Maine Trail Finder | Ski Maine
Land Trusts and Conservancies: Down East Lakes Land Trust | Down East Coastal Conservancy
Federally Managed Lands: Acadia In Winter | Acadia National Park Trails and Carriage Road Map | Friends of Acadia Winter Trails Association | Moosehorn National Wildlife Refuge
State Parks and Public Lands: Cobscook Bay State Park | DownEast Sunrise Trail | Duck Lake Public Land | Holbrook Island Sanctuary | Lamoine State Park | Roque Bluffs State Park