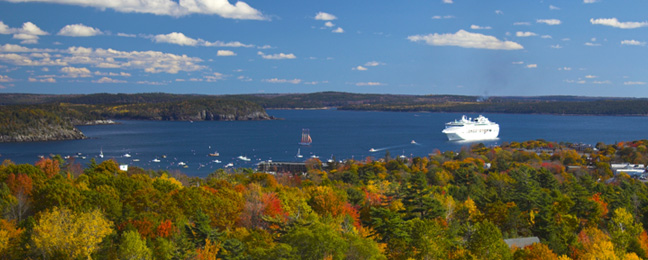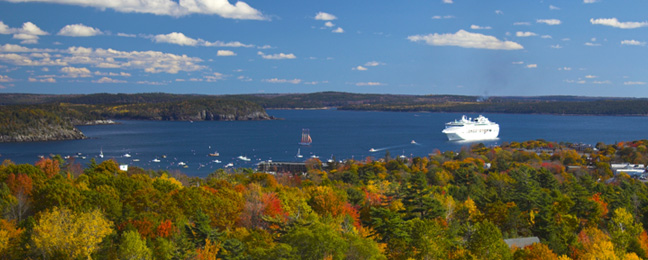 Cruises & Tours
There are so many fun ways to see and experience the magnificent sights of Mount Desert Island and Acadia National Park. Whether by land, air or sea, there are tours the whole family will enjoy for lasting vacation memories.
Take flight in a professionally-piloted single engine aircraft for a bird's eye view of Acadia's pretty villages, spruce-studded islands, blue water bays, crystal clear lakes, colorful forests, and pink-granite mountains.
Take a windjammer cruise aboard a majestic schooner and go sailing with the winds and tides amid the islands and bays, while watching for the bountiful marine life, and drinking in the grand scenery of Acadia from this unique offshore vantage point.
Join the captain and crew of a real Maine lobster boat and watch while they work hauling lobster traps from the ocean depths, and learn first-hand about the American lobster, one of Maine's most famous, and tasty, ocean residents.
Board one of the many private and public ferry boats operating on Mount Desert Island to explore some of the fascinating offshore islands and their quaint villages, like Great and Little Cranberry islands, Swan's Island, and Long Island. Take a guided tour of park-owned Baker, Bear or Sutton islands. Or ferry over to Schoodic Peninsula for a look at the rugged landscape of this lightly-visited part of Acadia.
Hop aboard a comfortable tour bus or old time trolley for a grand tour of the must-see sights of Acadia National Park, or take a horse-drawn carriage tour of the park's world famous carriage roads while visiting the famous stone bridges, scenic mountaintops, and other delightful locales.
Tours are available generally from late May through October. Most last from two to four hours. Advance reservations are always a good idea.