Deer Isle Lighthouse Trail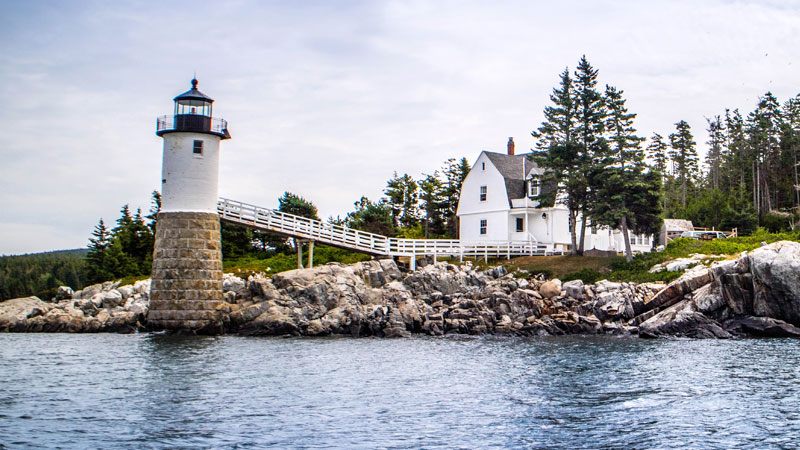 The island of Deer Isle is beautifully situated on the eastern side of Penobscot Bay. Surrounded by dozens of spruce clad islands with dramatic granite ledges, there are at least eight lighthouses within 12 miles of our shores. The Deer Isle Lighthouse Trail provides lighthouse enthusiasts an exciting opportunity to view the lighthouses year-round and have their Lighthouse Passports stamped. Three of the lights are visible from the shore of Deer Isle, the other five lights can be viewed by sea and all can be viewed by air.
Available from the U.S. Lighthouse Society, these blue passports resemble a U.S. Passport. Each time you visit or view a participating lighthouse, you can receive an official "stamp" in your passport. Each stamp is a unique design depicting the lighthouse, its date of construction and its location.
There is a nominal $1 charge for each stamp with all proceeds from the Deer Isle Lighthouse Trail donated to Island Heritage Trust for the preservation of Mark Island Light—also known as Deer Isle Thorofare Light.
---
Lighthouses on the Trail
These four are located in the DownEast Acadia region of Maine:
Pumpkin Island Light and Eagle Island Light Stamp Locations: Inn on the Harbor and Island Heritage Trust
Mark Island Light Stamp Locations: Inn on the Harbor, Island Heritage Trust, Isle au Haut Ferry Service, and Old Quarry Ocean Adventures
Isle au Haut Light Stamp Locations: Inn on the Harbor, Isle au Haut Ferry Service, and Old Quarry Ocean Adventures
These four are located in Maine's MidCoast & Islands region:
Goose Rocks Light, Brown's Head Light, Saddleback Ledge Light, and Heron Neck Light Stamp Locations: Inn on the Harbor, Isle au Haut Ferry Service, and Old Quarry Ocean Adventures