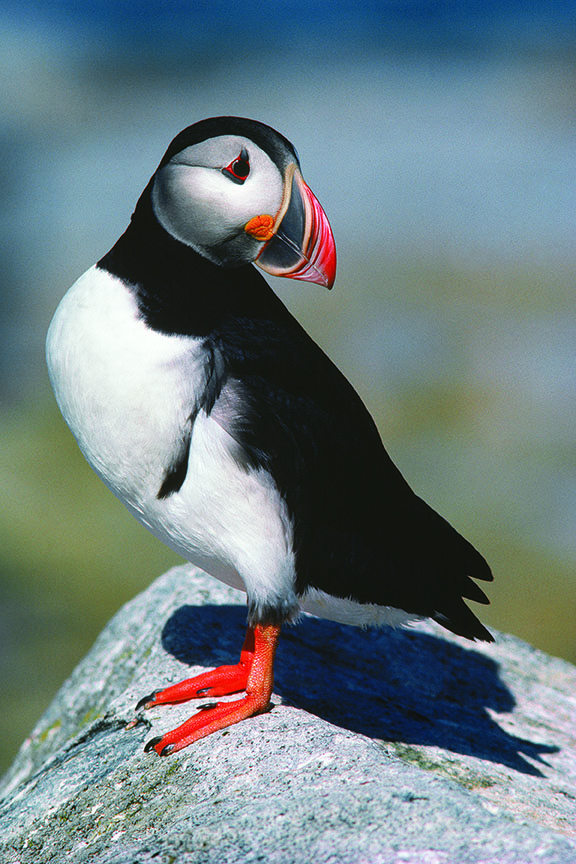 Photo Credit: Mark Picard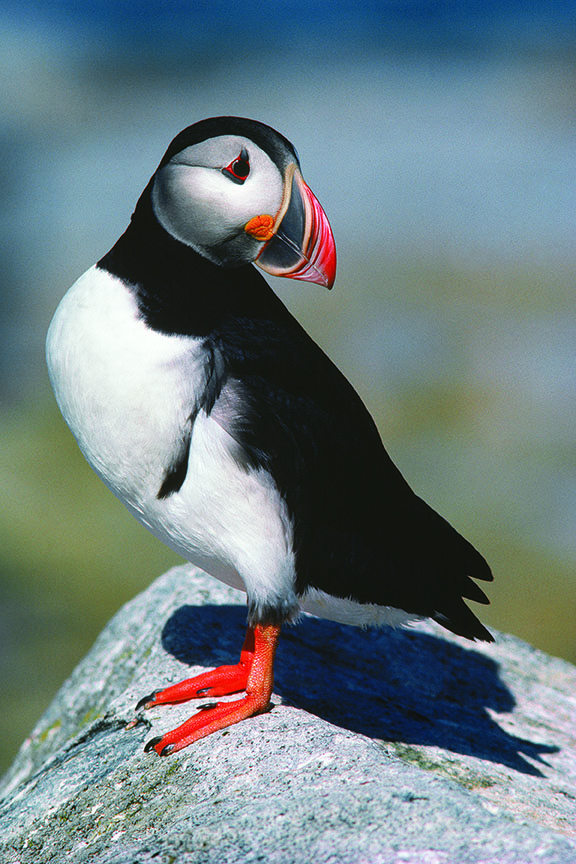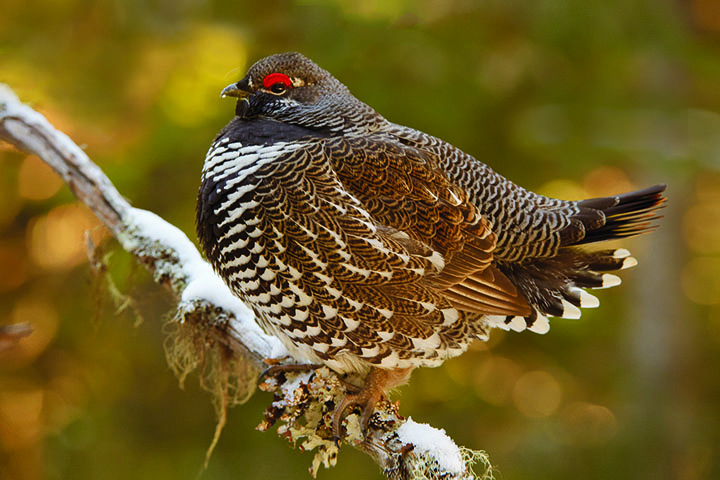 DownEast and Acadia Birding Trail
1. Holbrook Island Sanctuary State Park
Holbrook Island Sanctuary State Park is a network of old roads, paths, and animal trails ideal for birding. There are a variety of ponds, marshes, forests, and shoreline that can take a full day to explore. Maps and a local bird checklist are available at the visitors center. Check Smith Cove for Bald Eagles, Ospreys, Great Blue Herons, and a variety of bay ducks. The quick hike to the summit of Backwoods Mountain passes through wooded uplands filled with common songbirds. The Beaver Flowage Trail is easy but often wet, offering warblers and songbirds that favored secondary growth. Canada Warblers are to be found in the low thickets boarding the wet areas.
Directions:
From Route 176 in Brooksville, turn north onto Cape Rosier Road. Proceed 1.5 miles and watch for a small sign that indicates the right turn onto Back Road. Continues less than a mile and turn again onto Indian Bar Road.
2. Blue Hill Mountain
Blue Hill Mountain is a hill of multiple uses, all of which make it ideal for birding. Much of the hill is maintained for blueberries and open grassland, making it one of the better places to find Field Sparrows, Eastern Towhees, Indigo Buntings, and Brown Thrashers. Blackburnian and Black-throated Blue Warblers are among the dozen regular warblers to be found in the mature forested areas. In autumn, migrating raptors glide across Blue Hill Bay from the peaks of Acadia National Park and pass the summit. The most commonly used trail ascends the summit from Mountain Road, where a parking lot is available at the trail head.
Directions:
Look for Mountain Road stretching between Routes 15 and 172 just north of Blue Hill Village.
3. The Wildlands
The Wildlands consists of 4,300 acres preserved by the Great Pond Mountain Conservation Trust for multiple use, including biking, horseback riding, cross-country skiing, and birding. Surveys have turned up Whip-poor-wills, Northern Saw-whet owls, Ruffed Grouse, American Woodcocks, and plenty of songbirds. The viewshed is the extensive and regrowth areas are productive and varied. There are two sections. Hothole Valley is the larger at 3,420 acres. From the trail head on route 1, a gravel road runs through the center, with a number of foot trails leading from it. The Dead River Section is 875 wooded acres sandwiched between Great Pond Mountain and the Dead River Flowage. Choose the former for upland birds in dry habitat. Choose the latter for wetland birds, including those to be found in "Hellbottom Swamp." Otters and beavers are among the possible sightings there, and moose may be encountered in either area.
Directions:
From Route 1, access the Dead River Section via boat launch at Craig Brook National Fish Hatchery on Alamoosook Lake or on foot from Don Fish Trail, 0.5 miles past the Hatchery. The parking lot and trailhead for the Hothole Valley section are on Route 1, just west of the intersection with Route 176. There is also a North Gate on Bald Mountain Road in Dedham.
3. Acadia National Park (Mount Desert Island)
Acadia National Park (Mount Desert Island) provides maps and information at its visitor center on Route 3 just before Bar Harbor. The park's network of hiking trails and carriage paths augments the birding available by car along the loop road. Some of the Prime sites include:
Thompson Island - Best in winter when eiders, mergansers, goldeneyes, and other waterfowl are present, sometimes in large numbers at high tide. View from the picnic area (gated in winter.)
Park Loop Road - Pullouts and picnic areas provide good general birding. The road is closed in winter, except for the popular section between the entrance station and Otter Cliff, which includes Sand Beach and Thunder Hole. Sea ducks and Purple Sandpipers are noteworthy along this section in winter. The winter access is marked by a small sign in front of the Ocean Drive Dairy Bar south of Bar Harbor on Route 3.
Sieur de Monts - A botanical garden and set of hiking paths make it one of the best places in the park for songbird variety
Precipice Trail - Peregrine Falcons nest on the cliffs in early summer. Rangers with spotting scopes can help visitors spot the birds.
Cadillac Mountain - A premier hawk-watching site in autumn, with rangers stationed to assist. In summer, Eastern Towhees and Dark-eyed Juncos breed around the summit.
Jordan Pond - The trails and carriage paths in this area are good for songbirds.
Beech Mountain - A short hike to exposed ledges provides access to excellent hawk-watching in September.
Seawall - A prominent rock beach in Manset is excellent for sea ducks in all seasons, especially winter. Watch for Purple Sandpipers.
Wonderland and Ship Harbor Trails - Excellent for warblers; crossbills are uncommon in irruptive years.
All harbors on the island have Black Guillemots in summer and Long-tailed Ducks in winter. The view from Bar Harbor Pier is particularly productive. Also check the Bar Harbor sand bar at high tide in winter for sea ducks.
Whale-watch boats encounter many pelagic birds. Watch for Great, Sooty, and Manx Shearwaters, Wilson's and Leach's Storm-Petrels, Red-necked and Red Phalaropes, Parasitic and Pomarine Jaegers, Northern Gannets and Northern Fulmars.
Directions:
I-95 north to Augusta, then Route 3 east to Ellsworth and on to Mount Desert Island. Alternate route: I-95 north to Bangor, Route 1A east to Ellsworth, then Route 3 to Mount Desert Island.
4. Acadia National Park (Schoodic Point)
Acadia National Park (Schoodic Point) does not have a visitor center. Sea ducks are plentiful around the loop road, and there are many pullouts. Purple Sandpipers are regularly encountered along the rocky shore in winter. Warblers in summer and finches in winter may be expected in the spruce trees, while crossbills are a good bet for irruptive years.
Frazer Point - The open Space and low shrubbery are good for warblers, and the picnic area provides a wide-open look at the channel where winter sea ducks are often visible.
Schoodic Head - The access road has produced Black-backed Woodpeckers (rare), and ocassional Spruce Grouses have been noted on the summit. The road is closed in winter but even in summer, birders often elect to park at the bottom and hike the length.
Arey Cove - The cove just before Schoodic Point is good for sea ducks, particularly in winter.
Schoodic Point - Close views of eiders, mergansers, guillemots and scoters are possible, along with wintering Harlequin Ducks and Buffleheads. Scan for distant Northern Gannets at any time except mid-winter.
Blueberry Hill - Scan for sea ducks. Thick-billed Murres are sometimes seen in winter. Great Cormorants are noteworthy in winter, Double-crested in summer.
Directions:
From Ellsworth, continue on Route 1 for 19 miles to West Gouldsboro. Turn right onto Route 186 toward Winter Harbor. Proceed approximately 6 miles to a right that leads to the Schoodic Park area.
5. Petit Manan
Petit Manan is part of the Maine Coastal Islands National Wildlife refuge. The Birth Point Trail begins near the parking lot, where a kiosk provides trail guides and bird lists. The trail gently slopes over a variety of habitat, including some boreal areas where Spruce Grouse are occasionally encountered. The Hollingworth Trail is a more rugged 1.5 mile round-trip that leads to the eastern shore of the point. Driving or walking from the entry parking lot for about half a mile reaches this trail. From the shore sea sucks and Laughing Gulls are likely. Petit Manan Island is offshore, home to Maine's second tallest lighthouse and a robust Atlantic Puffin colony.
Directions:
Petit Manan peninsula lies at the end of Pigeon Hill Road. The turn onto Pigeon Hill Road from Route 1 is small and not well marked. It is 2.2 miles south of Milbridge or 2.9 miles north of Steuben on Route 1. Follow Pigeon Hill Road through a tiny village and fishing community to its termination at the refuge.
6. Great Wass Island
Great Wass Island contains an excellent preserve of The Nature Conservancy. It is home to virtually all of the boreal species nesting in Maine - Palm Warblers, Boreal Chickadees, Spruce Grouse, Yellow-bellied Flycatchers, Lincoln Sparrows, and Black-backed Woodpeckers. Common Loons and sea ducks are regular along the shoreline. In any season, harbor seals haul out in great numbers off Cape Cove. One trail exits the parking lot, diverging into two: the Mud Hole Trail and the Little Cape Point Trail 100 yards later. The left fork (Mud Hole) meanders through spruce and fir for 1.5 miles until it reaches a narrow cove. From here it winds east until reaching Mud Hole Point. The right fork wanders 2 miles through jack pine, spruce and fir forest carpeted in thick moss. After about a mile, open ledges offer a glimpse of the preserve's best bog areas. It is possible to do both trails as a loop. A cairn and red a red marker indicate the shoreline terminus for each trail. Walk the shoreline between them for a loop of about 5 miles.
Directions:
Proceed through Jonesport, then Beals, and continue across the causeway to Great Wass Island. After 3 miles on a small road, look for the parking lot for The Nature Conservancy on the left.
7. Machias Seal Island
Machias Seal Island is the best offshore birding experience in Maine. The island is famous for its large Atlantic Puffin colony, but Razorbills and Common Murres are also plentiful. When conditions permit, it is possible to land on the island and watch the birds closely from the blinds. Captain Andy Patterson operates the Bold Coast Charter Company out of Cutler. Info at www.boldcoast.comand 1-207-259-4484
8. Cutler Unis - Bold Coast Trails
Cutler Unis - Bold Coast Trails are on Maine Public Reserve Land in Cutler. These hiking trails are extraordinary and seldom crowded, traversing some of the best boreal habitat in the state. Boreal Chickadees, Spruce Grouse and coniferous-loving warblers are present. Nearly 200 species have been recorded on or near this 2,190-acre unit, including Merlin, Peregrine Falcon and six owl species. Not only Common Eiders and Black Guillemots are easily observed from the coastal trail but also seals, porpoises, and sometimes whales. Black bear, moose, deer, bobcat, and coyotes inhabit the preserve. Good footwear and adequate hiking ability required.
Directions:
The Bold Coast Trails are located along Route 191, three miles north of Cutler.
9. Quoddy Head State Park
Quoddy Head State Park is home to one of Maine's best-known lighthouses, located on the easternmost point in the United States. While eiders, loons, guillemots, and mergansers are regular treats, Razorbills are occasionally seen in all seasons. Scan Sail Rock for Double-crested Cormorants in summer, Black-legged Kittiwakes in autumn, and Great Cormorants in winter. Boreal Chickadees are sometimes encountered in the parking lot. While the park contains 4.5 miles of trails, the Bog Trail is particularly exceptional, with breeding Yellow-bellied Flycatchers, Palm Warblers, and Lincoln's Sparrows.
Directions:
Follow Route 189 toward Lubec 9.6 miles from the intersection with Route 1 in Whiting. Turn right on South Lubec Road and follow to the end. From Route 191 via the Boat Cove Road, bear left onto the South Lubec Road. The lighthouse area is straight ahead at the end. The picnic area and trails are in a seperate parking area bearing right.
10. South Lubec Sand Bar
South Lubec Sand Bar is one of Maine's best places to witness shorebird migrations. The best period is from the second week of August through Labor Day weekend. Semipalmated Sandpipers and Plovers are the most numerous, with fewer numbers of Least and White-rumped Sandpipers. Pectoral Sandpipers are few but noticeable as they tower above their cousins. Black-bellied Plovers are plentiful and American Golden Plovers can often be found in the midst. Short-billed Dowitchers and Red Knots also occur regularly. The near sections of the sand bar are clearly posted as no trespassing and must be respected. It is permissible to park in the parking area, walk directly to the beach, and then down the beach to state land. If the parking area is full, please return later. Always view the birds from a distance. Never approach or disturb roosting birds.
Directions:
From South Lubec Road, look for Bar Road Leading to the beach. Park only in the parking area. Go directly to the beach, avoiding private property. Only the south end of the bar is owned by the state.
11. Moosehorn National Wildlife Refuge, Edmunds Division
Moosehorn National Wildlife Refuge, Edmunds Division is primarily a loop of dirt roads that navigate mixed woodland and managed wetlands. Unusual northern forest warblers and Boreal Chickadees are present in small numbers. Common warblers, flycatchers, thrushes, and woodpeckers are abundant. Wetlands may contain American Black Ducks, Hooded Mergansers, and Ring-necked Ducks. Watch for Northern Goshawks. The South Trail Road turns west from Route 1 just south of Cobscook Bay State Park. The North Trail Road likewise turns west about a mile north of the park. Both are marked with small signs and kiosks. At the far end of South Trail Road, Crane Mill Road stretches northwest to connect the two.
Directions:
The South Trail Road is almost 4 miles north of the Route 1 intersection with Route 189. The North Trail Road is a mile farther north.
12. Moosehorn National Wildlife Refuge, Baring Division
Moosehorn National Wildlife Refuge, Baring Division, was originally established to promote habitat for game birds, and primarily American Woodcock and waterfowl. Over 220 species have been identified here. Approximately one-third of the refuge is park of the National Wilderness Preservation System. A kiosk at the visitor center has maps, bird lists, and information. There are many management roads throughout the refuge, which provide excellent bird hiking. Moose are seen regularly. Four natural lakes, and 50 restored wetlands harbors an abundance of waterfowl, as well as Soras and Virginia Rails, and Marsh Wrens. Ospreys and Bald Eagles are common.
Directions:
The refuge is obvious from Route 1 in Baring. The visitors center and most of the trails are reached from the Charlotte Road. Follow the signs.
13. Downeast Lakes Land Trust
Downeast Lakes Land Trust in interior Washington County conserves 27,000 acres for multiple uses, including hiking and canoeing access. The Little Mayberry Cove Trail begins at the outlet dam and follows the shoreline for 2.5 miles through mature hemlock forest. Black-throated Blue Warblers, Scarlet Tanagers, and Easter Wood-Pewees are common. The Pocumcus Lake Trail provides two loops: one loop is 1.3 miles lop, the other is 3.6 miles. This trail begins in secondary growth forest and proceeds through thick vegetation into a mature canopy forest. Northern Parula, Black-throated Blue, and Blackburnian Warblers are plentiful. Near the lake, the white pines harbor Pine Warblers and any damp tangle within the forest is likely to shelter a Canada Warbler. It's a good trail for Ruffed Grouse and moose. The trailhead is located 7.5 miles from Grand Lake Stream on the Fourth Lake Road. Wabassus Landing at Mile 6 deserves a visit. Check the flowage on both sides of the road for waterfowl. Walk the short road to the landing for warblers, thrushes, kinglets, and nuthatches.
Directions:
From Route 1 in Indian Township, 2 miles north of Princeton, turn west onto Grand Lake Stream Road and follow to the village. The land trust is in the center of the village, opposite the convenience store. Additional maps and information are available during business hours, and at www.downeastlakes.org