Grand Lake Stream
Between West Grand Lake and Big Lake in the northeastern DownEast area, the small town of Grand Lake Stream has been attracting outdoor sporting enthusiasts for nearly 200 years. The area is located in the St. Croix River and Grand Lakes Watershed and features over 2 1/2 thousand square miles of canoe waterways, four major lakes, 10 smaller lakes and 65 islands for kayaking, boating and swimming.
Grand Lake Stream legendary fly fishing for landlocked salmonWorld renowned for fly fishing on the seemingly endless lakes and streams , it is also famous for its unique Grand Lake Canoe. Grand Lake Stream boasts numerous hunting and fishing lodges offering full catering for their guests.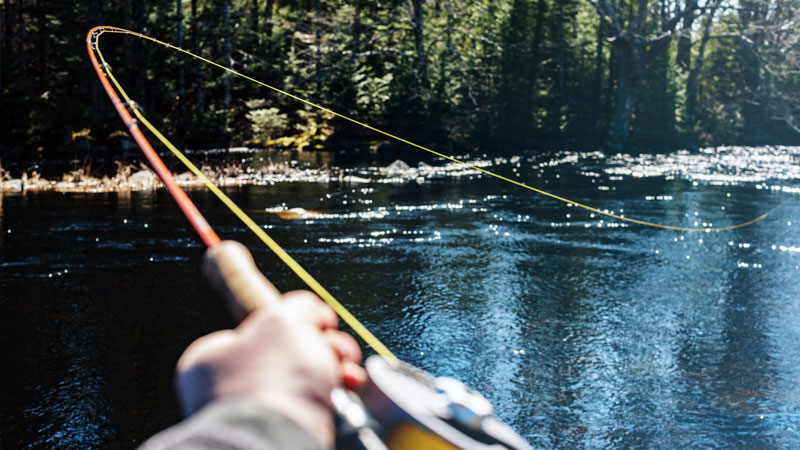 This year-round destination is an optimal destination for those seeking a retreat from the busy world. Families can go for a guided stargazing paddle in a canoe on the lake and experience the incredible peace of the area. The local Downeast Lakes Land Trust property offers publicly accessible trails for hikers of all skill levels, as well as public educational events and social activities. Visit the Grand Lake Stream Hatchery—where 80,000 landlocked salmon and brook trout are raised each year.
The last weekend in July heralds the Grand Lake Stream Folk Art Festival, when artisans and musicians converge for a weekend of food, fun and music. Or head to nearby Indian Township for Indian Days Heritage Celebration, featuring dancing, demonstrations and the renowned baskets of the Wabanaki.
Visitor Resources: Grand Lake Stream Chamber of Commerce | Grand Lake Stream Folk Festival | Grand Lake Stream Hatchery