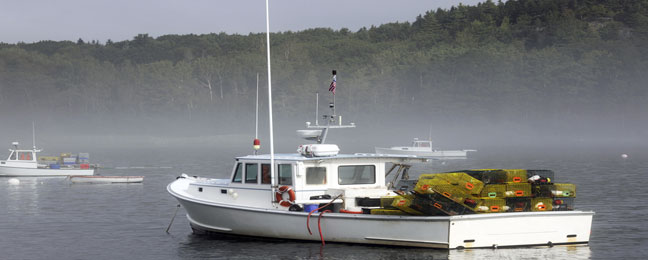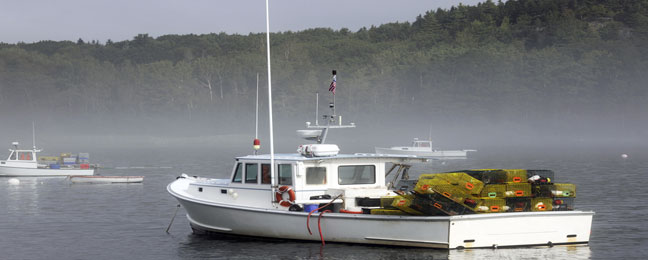 Lobster Boat Tours
Climb aboard a real lobster boat and motor out amid the islands and bays of the Maine coast for a unique vacation experience. Listen closely as the salty captain and crew describe the parts of lobster trap and how they work, demonstrate how lobster traps are hauled, and tell you all about the anatomy and life cycle of these fascinating crustaceans.
Learn some of the history and folklore of the Maine lobsterman as you watch these men and women in action amid the beauty of the sea and the sights of Acadia and its spruce-studded islands, rugged cliffs, and stunning mountainscapes. Be sure to keep an eye out for seals and porpoises, eagles and ospreys and other marine and bird life.
The American lobster (Homarus americanus) thrives in the cold, clean waters and rocky bottom habitat found along the coast of Maine. Maine lobsters are harvested by independent fishermen who generally make daily boat trips to tend their traps, which are marked by colorful buoys.
Maine is known for its delicious new or soft shell lobsters, which yield a succulent, flavorful meat from a shell that can usually be cracked by hand. Just stop at any Maine lobster pound or restaurant and find out for yourself! Most lobsters are caught between late June and late December when they are most active. The Maine lobster industry, with an annual catch of over 100 million pounds valued at more than $300 million, plays an vital role in the state and local economy, providing thousands of jobs.
Boat operators offer a variety of experiences from many locations throughout the season, from lobster tours to lighthouse and wildlife tours, and private charters. Any public ferry ride provides a glimpse of fishing boats in action.
Some suggestions are listed here, but many more exist - check with the Chamber of Commerce in the area of your visit. The tours listed here offer a variety of tours, all of which provide an opportunity to spot wildlife, fishing boats, and lighthouses along the way.