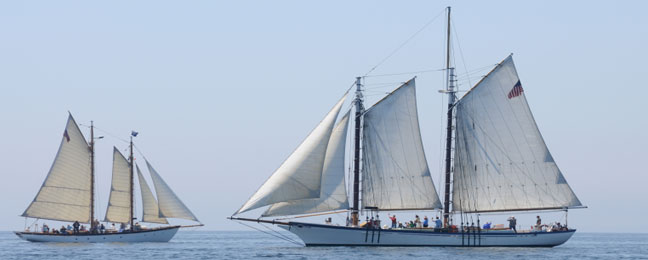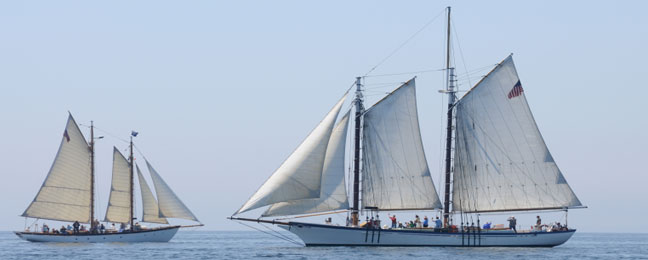 Sailing & Boating
One of the best ways to see and experience the magnificent sights of Mount Desert Island is from the vantage point of a boat on the ocean, cruising or sailing amid the islands and bays, breathing the salt air, and watching for the plentiful marine and bird life, all with the backdrop of the pink-hued granite mountains and rugged ocean cliffs of Acadia National Park.
Take a narrated nature cruise aboard a motorboat on Frenchmen Bay for a chance to see harbor seals and porpoises, herons, eagles and ospreys. Join a whale watching tour and cruise further offshore to observe the huge finback whales, humpback whales, and minke whales as they breach the surface of the ocean, spout water, and nurse their young. Puffin cruises will get you a close look at the colorful colonies of puffins on their rocky, wind and wave-swept island homes. Take a guided deep sea fishing excursion to angle for cod, cusk, pollock, and mackerel; bait and tackle included.
Set sail aboard a majestic schooner and let the winds and tides set a relaxing schedule on a windjammer cruise along the amazing coastline. These replicas of the tall ships of a bygone era, with their myriad sails large and small, handcrafted wooden planking, frames and decks, shiny brass fittings, and exotic wooden interiors, offer a glimpse into the rich seafaring history of the region. Enjoy a morning, afternoon or sunset sail of a few hours, cruising past lighthouses, lobstermen working their traps, the shoreline summer cottages and the amazing mountain backdrops. Simply relax and enjoy the sail and the salty sea air, or pitch in and help the crew raise the sails or steer the boat.
Join the captain and crew of a real Maine lobster boat and watch while they work hauling lobster traps from the ocean depths, and learn first-hand about the American lobster, one of Maine's most famous, and tasty, ocean residents.
Board one of the many private and public ferry boats operating on Mount Desert Island to explore some of the fascinating offshore islands and their quaint villages, like Great and Little Cranberry islands, Swan's Island, and Long Island. Take a guided tour of park-owned Baker, Bear or Sutton islands. Or ferry over to Schoodic Peninsula for a look at the rugged landscape of this lightly-visited part of Acadia.
Boating and sailing tours are available generally from late May through October from Bar Harbor, Northeast Harbor, Southwest Harbor, and Bass Harbor. Most tours last from two to four hours; reservations are recommended.