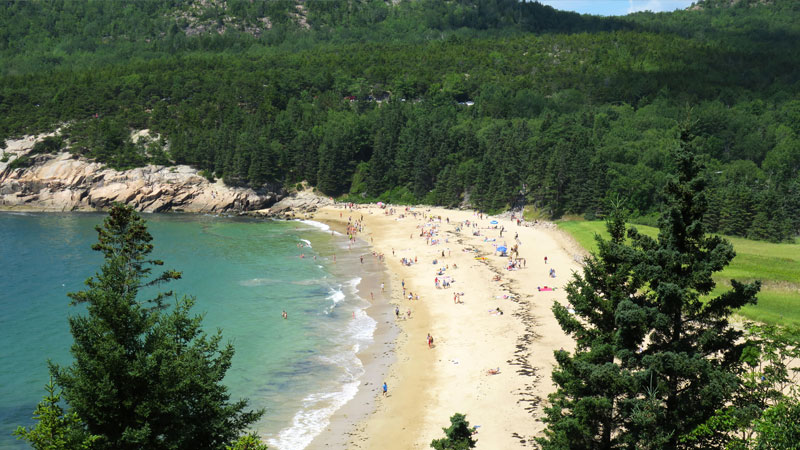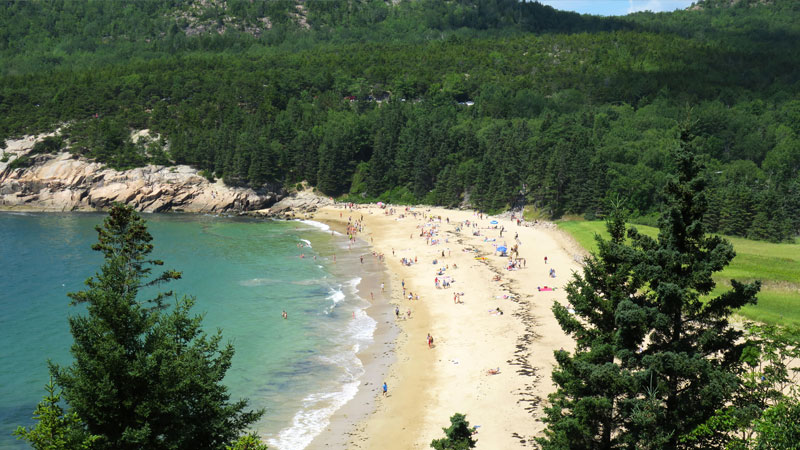 Sand Beach
Sand Beach is tucked into Newport Cove between the cliffs of Great Head and the towering rock face of The Beehive on the east side of Mount Desert Island, not far from Bar Harbor along the Park Loop Road. The beach is one of the most popular destinations in Acadia National Park, drawing throngs of beachgoers on hot summer days.
Take the granite steps down to the beach, take a deep breath of the salty air, and wander along between the ocean surf and the sand dunes. Grab a handful of the pinkish-white sand and take a close look to see its unique origins, tiny fragment of seashells that have been ground into a fine, soft sand over the millenniums. Explore the freshwater pond behind the dunes or scamper about on the pink granite rocks bordering the beach.
Even on busy days there is plenty of space to spread out your beach blankets, relax in the sun, and play on the scenic quarter-mile long beach. Summer ocean temperatures at Sand Beach rarely exceed 60 degrees, so hearty swimmers may want to test the water before splashing in. The beach is staffed by a lifeguard during the summer months.
Just off the large, tiered parking lot above the beach are restrooms, changing rooms, water fountains, a park information kiosk, and a bus shelter. The free Island Explorer shuttle bus makes frequent stops at Sand Beach in the summer months, connecting visitors to points throughout Acadia National Park.
Hiking trails abound in and around Sand Beach. Meander to the far end of the beach and hike the Great Head Trail to the dramatic ocean cliffs on its far side. Stroll along the Ocean Path for nearly continuous ocean views on your way to Thunder Hole and Otter Cliffs. Or step across the Park Loop Road and tackle the steep rocks and iron rungs and ladders on your way to the airy summit of The Beehive and grand vistas over Frenchman Bay.