DownEast Acadia Scenic Byways
DownEast Acadia is the only region with five scenic byways, exemplifying the plethora of scenic, cultural, and recreational opportunities available here.
Acadia All-American Road
A 40-mile route encompassing Acadia National Park and Mount Desert Island, the Acadia All-American Road features beaches, bicycling, foliage, hiking trails, islands, ocean views, and wildlife.
The byway starts at the Ellsworth/Trenton town line, where, for the first few miles, you'll find specialty retailers, theme-park-style activities that are fun for families, and classic lobster pounds with picnic-table dining. Continue into Bar Harbor, a haven of historic landmarks, lodgings, eateries, and excursions, like whale watching and Oli's Trolley.
Travel along Acadia National Park's 27-mile-long Park Loop Road. Pack your binoculars for this segment, and be sure to stop at the many scenic attractions throughout the park. You'll find Acadia's many hiking trails and walks along the way. When you return to Bar Harbor, relax in our parks with a scoop of homemade ice cream!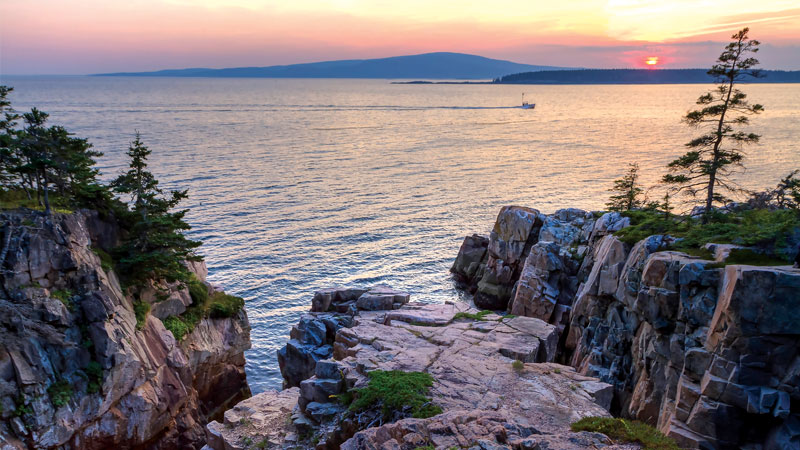 Schoodic National Scenic Byway
Weaving through 27 miles of gorgeous scenery—including reversing tidal falls, lighthouses, and historic architecture—the Schoodic National Scenic Byway is a 29-mile journey through the only mainland section of Acadia National Park.
Start your adventure at the Taunton Bay Gateway, marked by a granite monument. Overlooking Taunton Bay, you'll first be tempted to take in the view—seabirds swooping through the air, lobster boats, and sailboats in the distance.
The byway takes you along a shoreline decorated by wildflowers, with views of Cadillac Mountain and Mount Desert Island in the distance. Your trip traverses hillsides, blueberry barrens, seaside villages, and working harbors: Stop on the Wharf and talk with fishermen about their haul. Gordon's Wharf was once a site for shipping large blocks of granite; today, you'll find a small boat launch and interpretive information.
Have your camera ready for the Frenchman Bay Scenic Turnout, offering spectacular views across the bay. Pack a picnic for a stop at Long Cove: Watch the tide ebb to reveal mudflats rich with clams and marine worms. Then prepare for the drama of Schoodic Point's powerful waves, but keep your distance; the rocks are slippery, and the rip can be intense.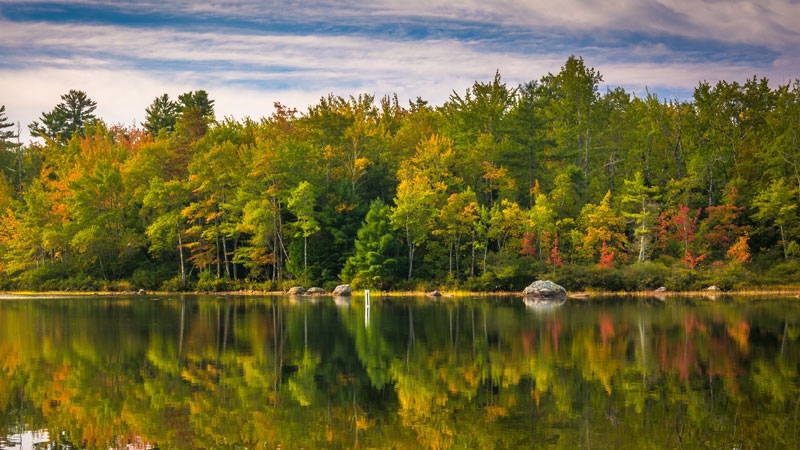 Black Woods Scenic Byway
A few miles from busy U.S. Route 1, Black Woods Scenic Byway offers a lovely 12.5-mile route on Route 182, starting in Franklin and extending easterly to Cherryfield, encompassing trailheads and boat launches to our mountains and lakes. Highlights include bicycling, boating, canoeing, kayaking, foliage-viewing, hiking trails, views of lakes, ponds, rivers, mountains, and the Atlantic Ocean, and wildlife.
The two anchor towns are both beautiful little communities in themselves. Each having a population of fewer than 2,000 residents, European settlement goes back to the 18th century. Franklin's namesake was Benjamin Franklin, and the leading products in the early years were ship masts, railroad ties, and granite. Today, blueberries and Christmas trees are big. The town is dotted with historical sites, like its cemetery and grange hall.
Cherryfield, calling itself the wild blueberry capital of the world for its proximity to the region's vast blueberry industry, was named for the wild cherries that once peppered the riverbanks. Its historic district comprises a collection of period structures dating back to the 18th and 19th centuries.
The route itself is a quiet, winding journey through wooded hillsides and open vistas. A special place to stop, midway on the drive, is the Donnell Pond Public Reserve Land; 4,000 acres of forested land with crystal-clear lakes, secluded ponds, and mountains with panoramic views. Visitors can enjoy boating, camping, canoeing, cross-country skiing, hiking, hunting, snowshoeing, and wildlife-watching.
Bold Coast Scenic Byway
From the coastal fishing community of Milbridge to Eastport and all points between, the Byway links visitors with the people, places, and culture of an authentic Down East Maine. Learn their history and soak in the wild beauty of the region. Attend community events and celebrations, and discover a subtly superb quality of life.
The stunning Bold Coast features waves crashing on the rugged granite shore, weathered lobster wharves, fishing boats plying the sea, and clam diggers working the mudflats at low tide. The nation's first sunrise lights up the red and white candy-striped lighthouse at West Quoddy Head. Nowhere else do wild blueberries grow in such natural abundance. Blueberry barrens stretch over vast rippling landscapes in ever-changing hues from its white flowers in spring to deep purple berries in August to flaming red foliage in autumn.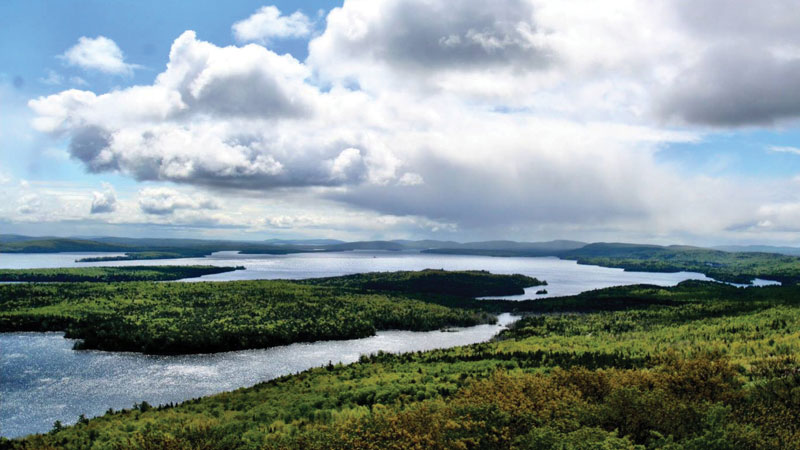 Million Dollar View Scenic Byway
Aptly called the "Million Dollar View", this stretch of U. S. Route 1 in the northeasternmost section of DownEast Acadia offers travelers unsurpassed views of the Chiputneticook chain of lakes. Travel through rolling hayfields with direct views of Mount Katahdin, Peekaboo Mountain, and beyond into New Brunswick, Canada. Travelers may spot local wildlife and scenic turnouts provide front-row seating for the vast and impressive views to the east and west.
Danforth, a former lumber town in the Baskahegan River Valley, marks the byway's southerly limit and provides many small-town amenities. Weston is the location of a historic portage used by Native cultures and early settlers connecting Baskahegan Stream to Butterfield Landing on East Grand Lake. Weston also has many impressive historic buildings such as the Weston Community Church, which was moved across the ice of East Grand Lake from Canada, as well as modern accommodations of the First Settler's Lodge. The byway reaches its high point near the top of Peekaboo Mountain, and travelers may continue north to explore Aroostook County or enter New Brunswick, Canada, through Orient's border crossing.
Other Scenic Routes
There are also opportunities for cycling through this scenic region to savor some amazing scenery at a slower pace. Peddle the quiet rural roads of the Bold Coast Scenic Bikeway, or take the Down East Sunrise Trail, a multi-use trail that is also the easternmost and longest contiguous off-road section of the East Coast Greenway.
Whatever your preferred way of getting around, be sure to incorporate some or all of these and other self-guided sightseeing cruises in your itinerary, for natural beauty at its best!
Visitor Resources: Discover Bold Coast | Explore Maine Scenic Byways