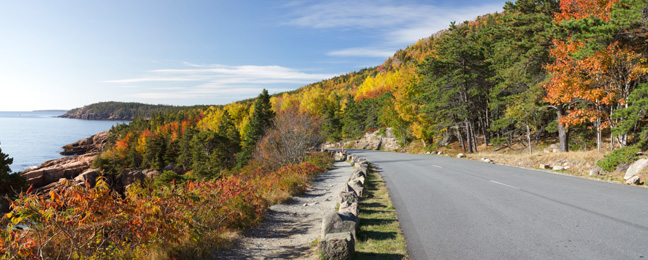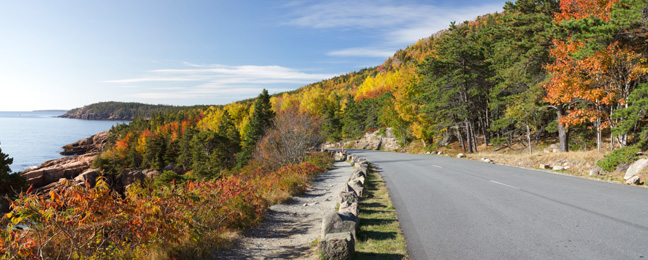 Scenic Byways
DownEast Acadia is the only region with five scenic byways, exemplifying the plethora of scenic, cultural, and recreational opportunities available here.
Bold Coast Scenic Byway: A 125-mile route hugging the coast and peninsulas between Milbridge and Eastport. Explore the culture, history, wildlife, and rugged beauty of coastal DownEast Maine, including villages, lakes, forests, farms, and blueberry barrens.
Black Woods Scenic Byway: This 12.5-mile route winds through mountains and along lakes between Franklin and Cherryfield, where it joins the Bold Coast Scenic Byway. Numerous trailheads and boat launches provide easy access to quiet, pristine mountains and lakes.
Schoodic National Scenic Byway: Weaves through 27 miles of gorgeous scenery, including a reversing tidal falls, lighthouses, historic architecture, and the Schoodic Section of Acadia National Park.
Acadia All-American Road: A 40-mile route encompassing Acadia National Park and Mount Desert Island, featuring beaches, bicycling, foliage, hiking trails, islands, ocean views, and wildlife.
Million Dollar View Scenic Byway: The northeasternmost section of DownEast Acadia, at the Arooostook border, offers breathtaking views beyond lakes to Mount Katahdin.
There are also opportunities for cycling through this scenic region to savor some amazing scenery at a slower pace. . Peddle the quiet rural roads of the Bold Coast Scenic Bikeway, or take the Down East Sunrise Trail, a multi-use trail that is also the easternmost and longest contiguous off-road section of the East Coast Greenway.
Whatever your preferred way of getting around -- be sure to incorporate some or all of these and other self-guided sightseeing cruises in your itinerary -- for natural beauty at its best!