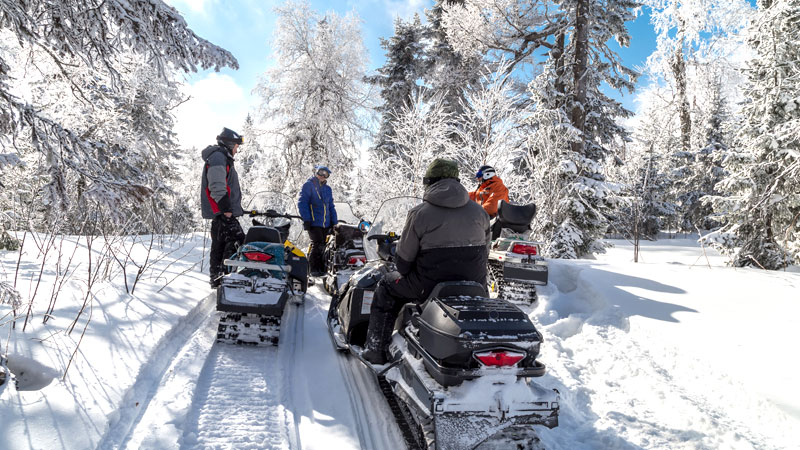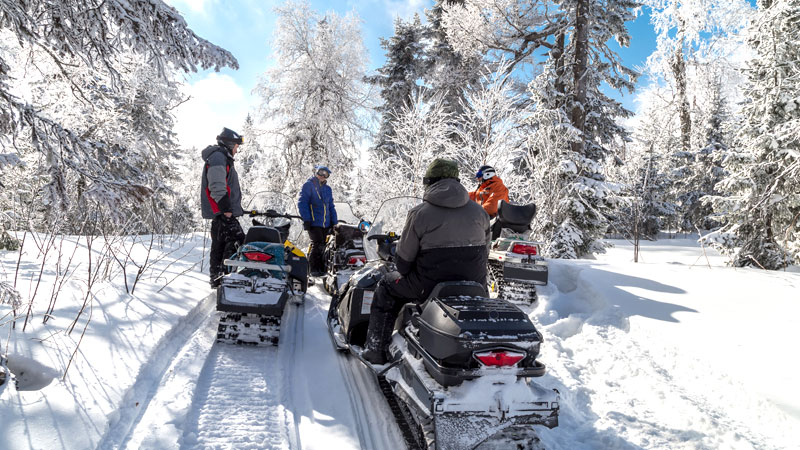 Snowmobiling
There may be more ways to get around in the winter by snowmobile trail or log road than by car in DownEast Acadia especially in the sparsely populated Grand Lakes sub-region situated along and above the area's famous Airline — an undesignated scenic byway that bisects the region into northern and southern sections.
One of the best ways to explore this part of the region is on the back of a snowmobile. Frozen lakes and crystalline forests stretch far into the distance, and you can ride a hundred miles and not see a single soul. Winter bliss.
If you are traveling the superhighways of Maine Snowmobiling into the Grand Lake Stream sub-region to explore some of its secrets, you'll find the ITS 84 is your east-west corridor (about 10 miles north of Rte 9/The Airline. You can reach it via ITS 107 out of Bucksport and from Milbridge/Cherryfield on ITS 81. If traveling this way, accessing the ITS 103 is about the only way to get to the vast collection of trails surrounding the Grand Lake Stream.
Once in the region swing by the Pine Tree Store to pick up a copy of the local trail map for a couple of bucks. As you travel along and through this vast system of logging roads, trails, you will see that this part of DownEast Acadia, while different from its coastal sibling is not lacking in beauty especially when draped in a white winter coat. You will also find that this wonderland offers a few clubs, associations and local haunts that go the distance to take care of their trails and welcome visitors with a smile.
Please remember: Stay on marked trails, even in open, un-forested areas. Permission to ride across private lands is a privilege in Maine and broad open areas in DownEast Acadia are likely part of a blueberry barren. Even under snow, these plants can be damaged by heavy equipment.
Visitor Resources: Maine Snowmobile Association | Registered Maine Guide | Maine Snowmobile Map | Motorized Recrreation in the Downeast Lakes Land Trust
Places to Stop on Your Travels: Pine Tree Store, 3 Water Street, Grand Lake Stream Open Daily until 8pm | (207) 796-5027
Grand Lake Stream Snowmobile Club, 1 Webber Dirt Road, Grand Lake Stream
Airline Snack Bar / Airline Riders Snowmobile Club,* 3752 Airline Road, Beddington, ME 04622