Things to Do in Acadia National Park
Acadia National Park is an outdoor recreation wonderland. From soft-adventure on the well known Carriage Roads or skilled hiking and climbing up the park's granite, visitors of all ages and skill levels will find ways to keep busy.
Fishing Anglers visiting Acadia National Park and the surrounding environs of Mount Desert Island will find outstanding opportunities for freshwater and saltwater fishing. The lakes and ponds hold numerous freshwater game species, including brook trout, lake trout, landlocked salmon, smallmouth bass, and largemouth bass. Ocean species include mackerel, bluefish, and striped bass.
Popular cold water fishing spots include Bubble Pond, Eagle Lake, Half Moon Pond, Jordan Pond, Long Pond, Lower and Upper Breakneck ponds, Lower and Upper Hadlock ponds, and Witch Hole Pond. For warm water fishing, Hodgdon Pond, Long Pond, Round Pond, and Seal Cove Pond are favorites.
Good ocean fishing spots are Sargent Drive, bordering Somes Sound, and Frazer Point on Schoodic Peninsula. For a guided ocean fishing experience, sign on with an experienced captain and crew for a boating excursion on Frenchman Bay. A State of Maine fishing license is required for freshwater fishing, while no license is required for ocean fishing.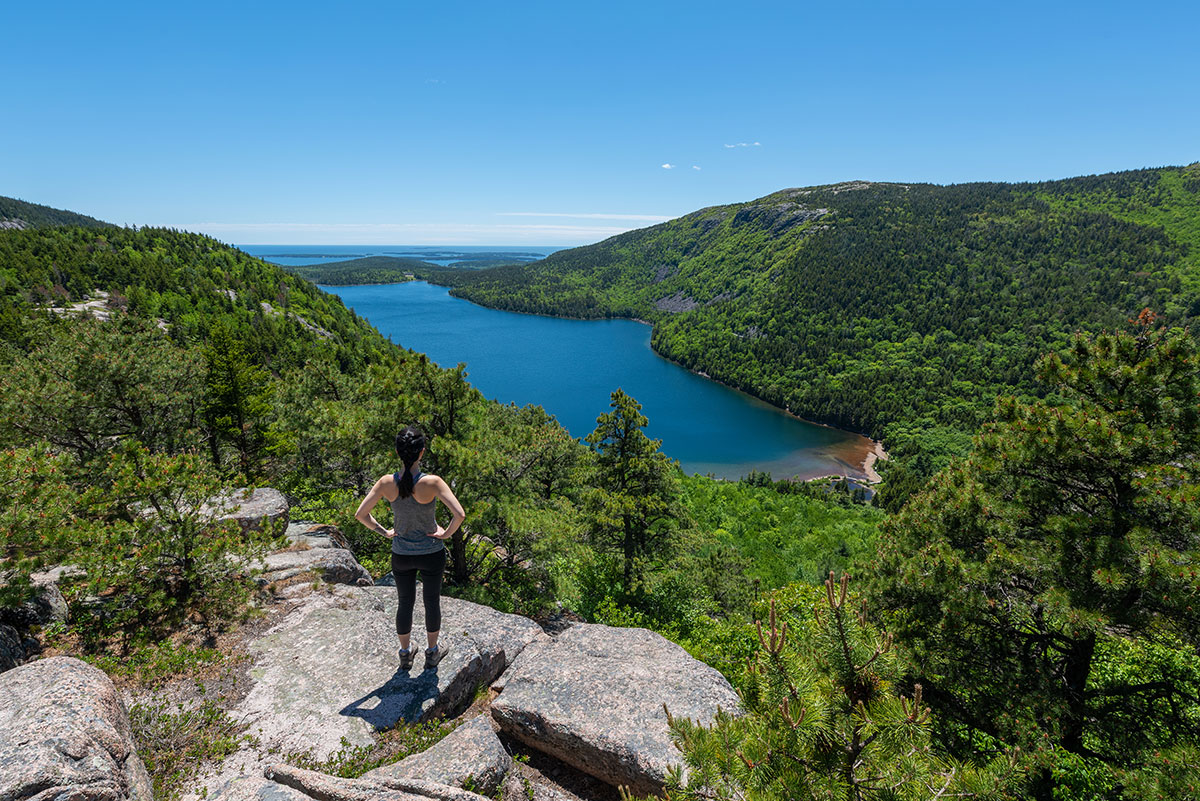 Hiking Acadia National Park offers numerous hikes/walks for everyone. Strikeout on the Ocean Path (2.1 miles one-way); it hugs the shoreline, passing several of the park's most famous sites, including Thunder Hole and Otter Cliffs. Enjoy a leisurely walk and grand views on the Cadillac Summit Path (0.3-mile loop). Venture off on the Jordan Pond Nature Trail (1-mile loop)for a lovely walk along the lakeshore that takes in the fabulous view of The Bubbles and Penobscot and Pemetic mountains. The Wonderland Trail (0.7 miles one-way) is home to fragrant evergreen woods and pretty cobble beaches.
More than 50 miles of wide, graded, and finely-graveled Carriage Roads crisscross the eastern side of Acadia National Park and Mount Desert Island. They are open to walkers, bicyclists, and equestrians for many miles and hours of recreational fun.
Acadia's many miles of moderately strenuous trails provide a wealth of hikers opportunities to explore the park's beauty. Trails rated to be moderate will often have sections of uneven ground, rough footing, and steep grades, especially a mountain ascent. Be prepared and take a light day pack of essentials.
Acadia's trails are unique and vulnerable to human impacts. Please Leave No Trace: Stay on the path and walk single-file to avoid damaging trailside plants and causing erosion. Tread carefully on summits: Stay on rock surfaces to avoid the tiny alpine plants. Be mindful of human waste. And carry out all your trash. Carry and use a trail map – they are available at many locations in and around Acadia.
Trail Biking A network of carriage roads—closed to vehicular access—winds through Acadia National Park, offering bicyclists 45 miles of scenic riding. These carefully maintained gravel roads were financed and built under the supervision of John D. Rockefeller between 1913 and 1940.
Loop trips allow for leisurely rides ranging from a few hours to an entire day. One of the most popular is the six-mile loop around spectacular Eagle Lake. The park's Carriage Road User's Map is a helpful guide to these and other rides. When cycling, yield to other users—and horses, which can be startled by sudden movements.
A web of old fire roads on the western side of Mount Desert Island near Southwest Harbor winds in and out of the park through quiet woods and fields offer another pleasant bicycling option. Miles of lightly-trafficked roads and byways nearby offer more pedaling possibilities.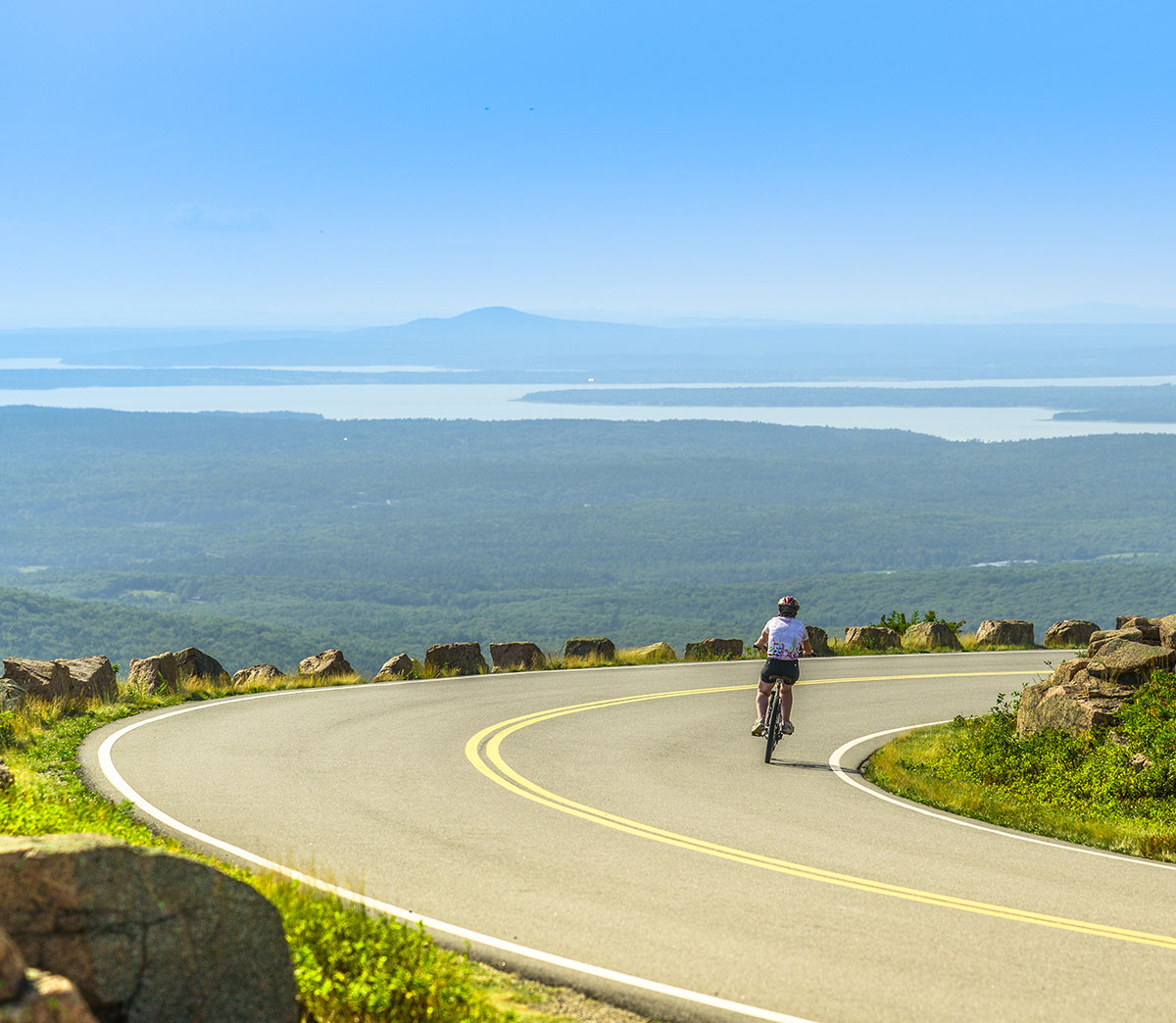 Road Biking
The 27-mile paved Park Loop Road, on the park's eastern side, provides incredible sightseeing by bike. From the Hulls Cove Visitor Center to Seal Harbor—a two-way vehicular traffic section—bicyclists can stop by Eagle Lake and Jordan Pond House. Soon after leaving the visitor center, the road is one-way for much of its length, so cyclists don't have to worry about oncoming traffic. Hearty cyclists up for a hill climb can tackle the Cadillac Mountain Road, which leaves from the Park Loop Road 3 1/2 miles south of Hulls Cove Visitor Center.
Paddling: Canoe, Kayak, or SUP
World-class paddling opportunities abound for adventurous visitors to Acadia National Park. Myriad islands, inlets, and coves await exploration, while inland is a variety of sparkling lakes and ponds bordered by quiet forests.
Ocean kayakers can paddle Mount Desert Narrows at the north end of the island or make loop trips through the archipelago of the Porcupine Islands in Frenchman Bay east of Bar Harbor for a chance to see harbor seals, porpoises, eagles, and ospreys. Tour the waters of Somes Sound, the only natural fjord in eastern U.S. Poke about the quiet western side of Mount Desert Island at the Pretty Marsh Harbor or Seal Cove in Blue Hill Bay.
Novice and experienced sea kayakers alike will enjoy going out on an organized group tour with a professional outfitter. Outfitters provide all the necessary equipment rental, friendly and knowledgeable guides plus instruction.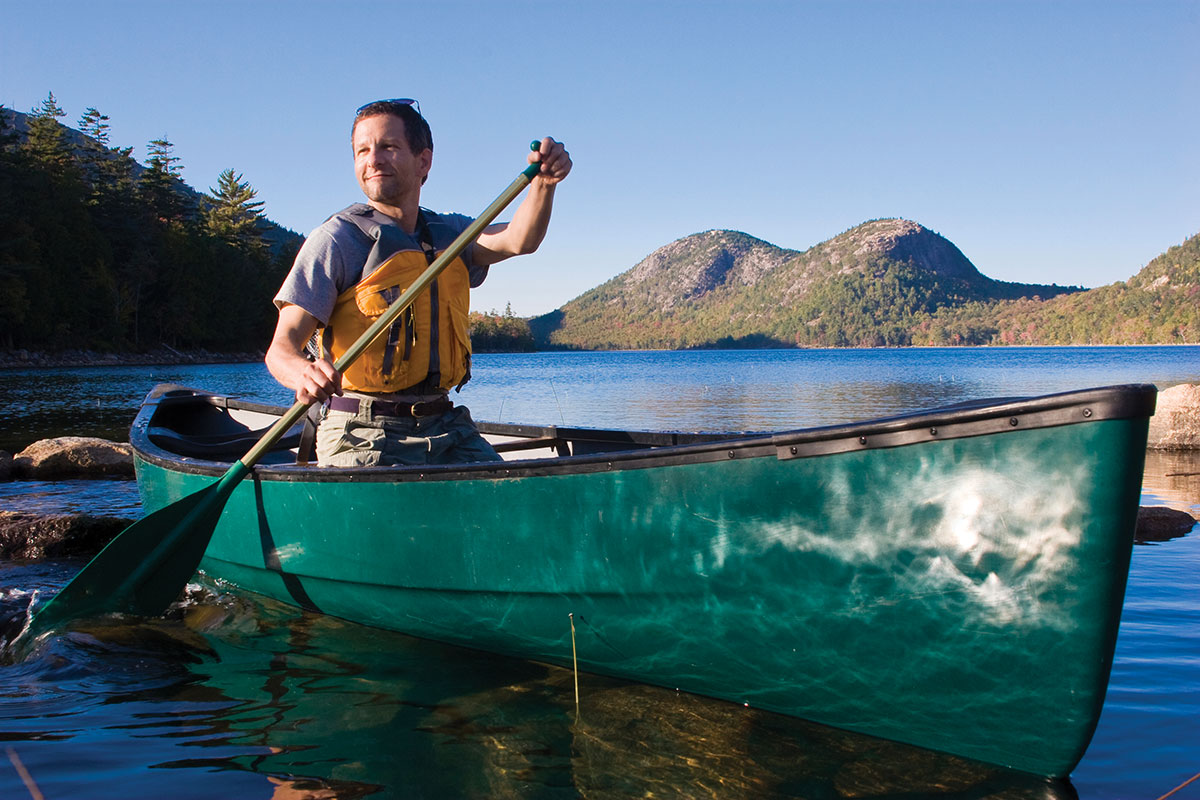 There is plenty of flatwater paddling on the many lovely lakes and ponds of the interior of Mount Desert Island and Acadia National Park. From your canoe or kayak's seat, enjoy wildlife sightings and views of spruce and pine-studded, pink granite mountains.
Visitor Resources: Boat Launches | Maine Fishing License & Laws | Acadia National Park Trails | Maine Trail Finder | Acadia National Park Biking Routes