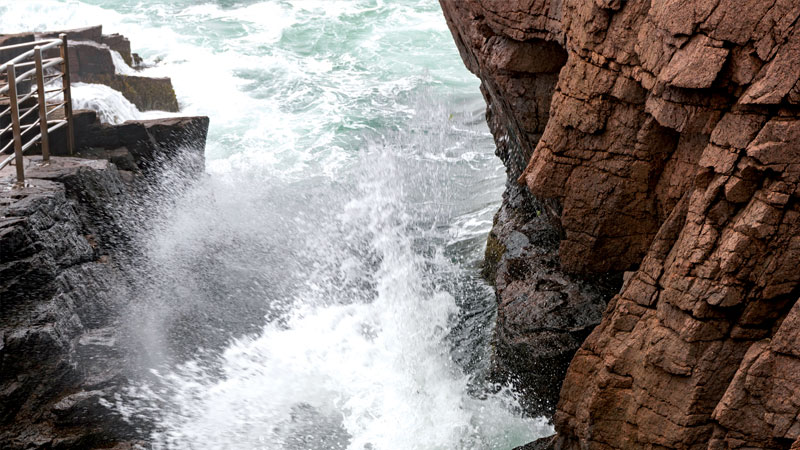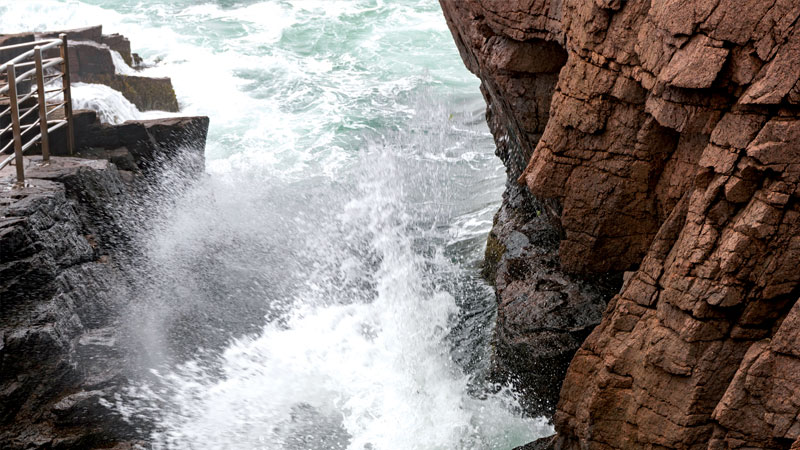 Thunder Hole
Thunder Hole is a narrow cleft in the pink granite cliffs along Ocean Drive on the eastern edge of Mount Desert Island in Acadia National Park. Fully exposed to the open ocean, when the weather and tides are just right, the pounding surf ferociously rushes into the chasm and forces out the air from the concave space of the hole beneath the cliffs. This powerful action creates a thundering boom like no other sound in nature, and the resulting waves can splash and spray as high as 40 feet. It's an amazing sight and a thrilling experience, and the reason why so many visitors are drawn time and again to the famous Thunder Hole.
Located on the Park Loop Road a mile south of Sand Beach and 10 miles from the Hulls Cove Visitor Center, Thunder Hole is scenic spot to visit anytime. Enjoy grand views up the coast to Sand Beach in Newport Cove, with the cliffs The Beehive rising impressively to the west of the beach, the rocks of Great Head to the east. Looking south from Thunder Hole, just beyond Monument Cove, the dramatic walls of Otter Cliffs jut straight up out of the Atlantic Ocean.
For a chance of viewing Thunder Hole at its boisterous best, aim for two hours before high tide when the seas are about three to six feet. From the Park Loop Road, granite stairs wind down to several viewing platforms enclosed by shiny safety railings. An interpretive sign tells the story of Thunder Hole. You'll likely have plenty of company here, as the crowds gather and jockey for the best view and wait for a photograph of that perfect crashing wave.
Hopefully you'll have timed it right, but don't be disappointed, because even in the most ideal meteorological conditions, you may find Thunder Hole uncooperative, producing only gurgles and sloshes. Another visit to this scenic stretch of Acadia coastline may be needed.
On any visit to Thunder Hole, and especially in stormy weather, exercise caution. Rocks and staircases may be wet and slippery. Keep children under close supervision. Be alert for rogue waves; they can and do happen. Park officials my close Thunder Hole when weather conditions are deemed to be unsafe.
The Ocean Path meanders past Thunder Hole on its spectacular walking route from Sand Beach to Otter Point. And the Island Explorer shuttle bus makes frequent stops here.
Directly across the Park Loop Road from Thunder Hole is a parking area and the former Thunder Hole Ranger Station, which houses a park information desk and gift shop. Portable toilets are nearby. A sign posted outside the old building lists "best viewing times" for Thunder Hole. Good luck!