West Quoddy Head Light
Located on the most eastern point of the continental United States, West Quoddy Head Lighthouse is a stunning spot to see the first rays of sun in the country. Located in Quoddy Head State Park, the original tower was built in 1808 under orders from President Thomas Jefferson. The lighthouse tower that stands today was built in 1858.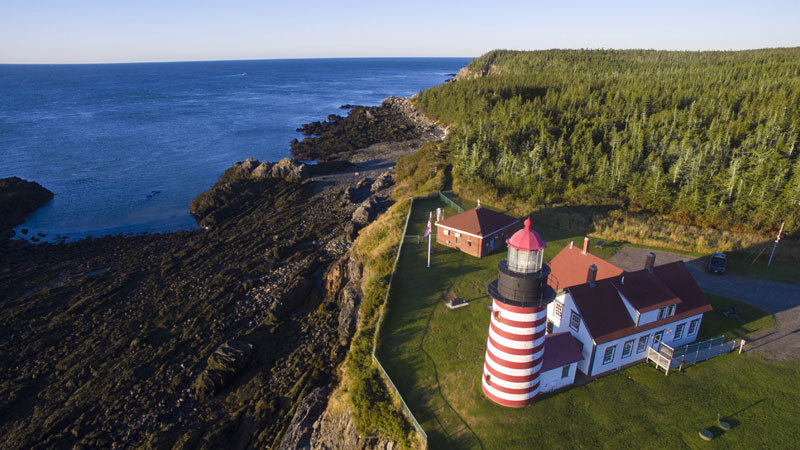 The red and white tower is the only "candy striped" tower in the United States. The Tower is 49 feet tall with a 1000 watt bulb is filtered through a 5.5 foot tall fresnel lens from France, which along with the 50 step circular iron staircase to the top of the tower was installed in 1857. Previously the lamp was illuminated with sperm whale oil, lard oil and finally kerosene and electricity in 1932. The light flashes in a pattern 24 hours a day. 2 seconds on, 2 off, 2 on, and 9 seconds off.
In 2004 the copper dome was replaced due to hail pocking. 8 red stripes alternate with 7 white stripes on the tower. Several generations of lightkeepers and their families have called the Keeper's House home. With full automation of the light there is no longer a lightkeeper in residence, although a park ranger occupies the apartment on the second floor of the house.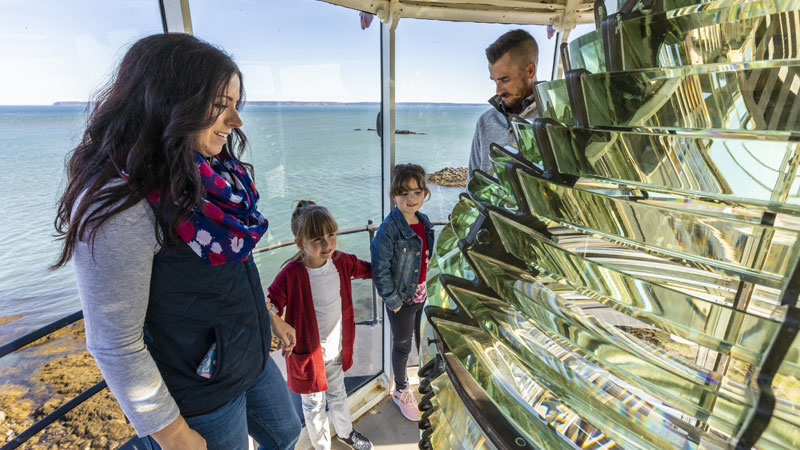 The Visitors Center occupies the first floor of the lightkeeper's historic residence. In addition to historic and interactive displays, visitors can view and purchase unique artwork by skilled local visual artists.
Quoddy Head State Park is open for visitors offering many hiking trails and nature walks, bogs, and rocky beach. You may see a whale or two. Picnic tables are available close to parking with stunning ocean views.
Location: West Quoddy Head State Park, Lubec
GPS: 44.501833 -67.101139 Established: 1808
Present light built: 1858
Automated: 1988
Visitor Resources: DownEast Acadia Lighthouses | West Quoddy Lightkeepers Association | VisitLubecMaine.com | Lighthouses & Sightseeing