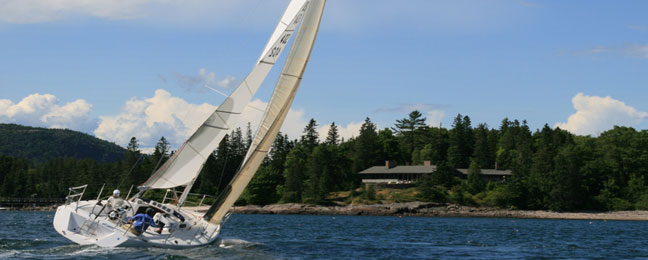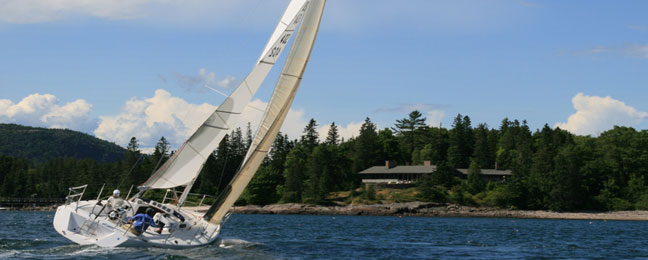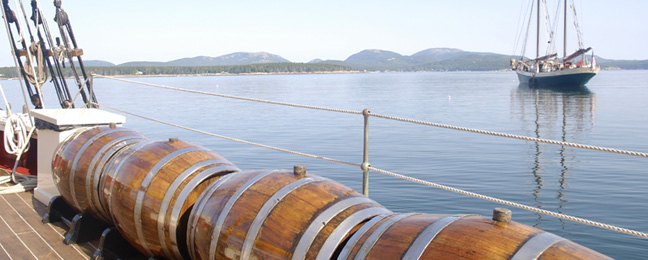 Windjammer Cruises
Relive the golden years of sailing aboard a Windjammer. Most of these ships were built at the turn of the century when America still used sailing ships to transport heavy cargoes from port to port. Today, whether for a two-hour excursion or multiple day tour, windjammer cruises offer an experience of a lifetime. Bunk down in a peaceful cove where the stars reflect off the water as it laps against the side of the ship. Visit tiny fishing villages, hike an uninhabited island or sunbathe on the deck. You can even help the crew sail the ship if you choose. Windjammer cruises are immensely popular so it is recommended that you book a reservation well in advance.
Although not DownEast & Acadia's typical lodging, a Windjammer cruise is the best way to experience this spectacular coast just as ocean going visitors did a century ago. Sleep aboard! Be lulled to sleep by the gentle rocking of the waves. Awake to the chatter of seagulls overhead or the call of loons fishing nearby. The galley will serve up a delicious breakfast and your day of cruising will begin. You'll pass uninhabited islands and even row ashore for a hike or quick dip at the edge of a sparkling sandy beach. Unspoiled coastal villages will beckon you to explore. See the sky as you've never seen it before…for miles and miles arched over a glittering wave tossed sea.
Set sail and let the winds and tides set a relaxing schedule on a windjammer cruise amid the islands and bays along the coastline of Mount Desert Island and Acadia National Park.
These tall ships, with their myriad sails large and small, handcrafted wooden planking, frames and decks, shiny brass fittings, and exotic wooden interiors, offer a glimpse into the rich seafaring history of the region.
Enjoy a morning, afternoon or sunset sail of a few hours, cruising past lighthouses, lobstermen working their traps, the shoreline summer cottages and the amazing mountain backdrops. Simply relax and enjoy the sail and the salty sea air, or pitch in and help the crew raise the sails or steer the boat. Be sure to keep an eye out for the wildlife, like seals and porpoises, eagles and ospreys.