Calais
The historically significant city of Calais sits along the banks of the St. Croix River and is Maine's primary gateway to Canada. It has been the location of the first European settlement on nearby St. Croix Island, and previous to that, the traditional fishing grounds of the Passamaquoddy at Salmon Falls.
Named after the French city of Calais, it honors the French assistance the colonies received during the American Revolution. The city features many historic homes and buildings, including Dr. John Holme's Cottage and Museum, which houses The Calais Historical Society, The Calais Free Library, and the Stone House' Calais' oldest standing residence.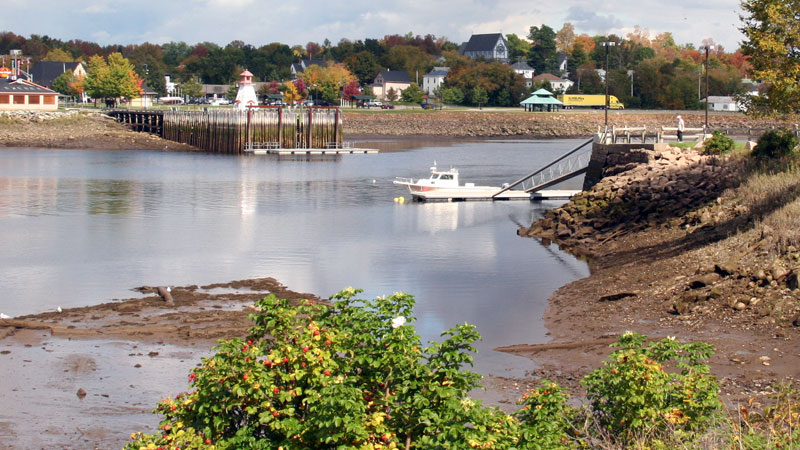 Calais is linked to the town on the opposite shore of the river, St. Stephen, New Brunswick. Both communities are part of the Schoodic International Sculpture Trail You can find Calais's sculpture on the green in front of the library.
Walk along the Calais River Walk, part of the East Coast Greenway, and spot the two sister-city lighthouses. The tiny St. Stephen Lighthouse sits on the wharf at St. Stephen and is not real or functional, while Whitlocks Mill Light, the northernmost lighthouse in Maine, is still an active aid to navigation in the river.
Like many communities in Maine, Calais is held together by the spirit of its people. During the summer, a weekly farmer's market takes place on the Civic Green, as well as a weekly musical concert series.
If you're looking to get outdoors, Calais has a beautiful waterfront walking trail that traces the old railway line, from which you can view the St. Croix River and the remains of the wharves that once dotted the shores. Both Calais and St. Stephen have golf courses for those looking to hit the greens. Journey along U.S. 1 south and you'll find the Devil's Head Conservation Area, which has several trails and a spectacular scenic lookout.
Visitor Resources: St. Croix Valley Chamber of Commerce | Attractions in Calais | The Calais Free Library | Stone House | Schoodic International Sculpture Trail | Devil's Head Conservation Area | City of Calais | Calais Historical Society